BSA A10 Golden Flash
I had always wanted a BSA classic Motorcycle and it so happened that on a holiday trip to Scotland we saw this old bike go past, the chrome shone and the exhaust pipes sounded fantastic. This clicked my Mid-life-crisis into motion! I now had to have a classic motorcycle. On arrival home I went straight onto Ebay, running a search for BSA motorbikes, and saw a one that I liked the look of. Later after consulting the better half of what I had found, we were soon on our way to Burton-on-Trent to view and consider one of our own, but alas, the fool easily parts with his money and the new/old bike arrives home.
The 650cc A10 Golden Flash is a 1961 model and the last of the pre unit twins, this means the engine and gearbox are separate as opposed to the next generation models where the engine and gear box are all in one. The A10 is known for its attractiveness.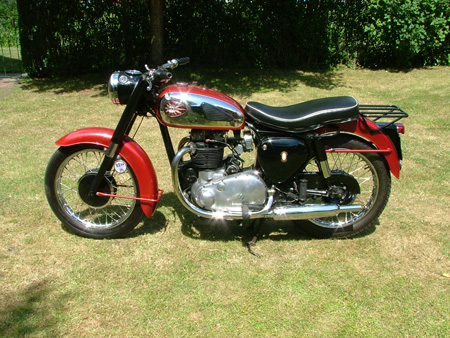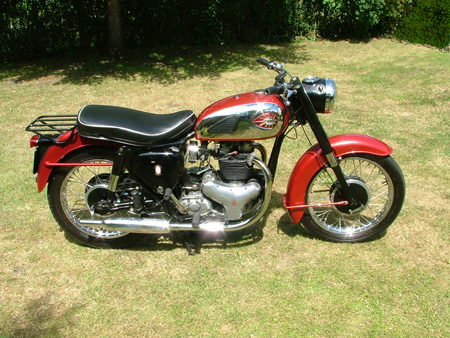 These are a couple of pictures of the Flash soon after we bought her home, after having had a good wash and polish! I then had to obtain a license to ride the machine as I only took the four wheel test when I was 17. I had missed many years of motorcycling. I soon passed and was well on the way to clocking up some miles on two wheels. The bike has in the last four years gone through a running restoration and gradually took on some clobber. She now sports a handlebar fairing, leg shields, crash bars and Craven side panniers and top box. A front number plate has been added and some smart Gold star silencers.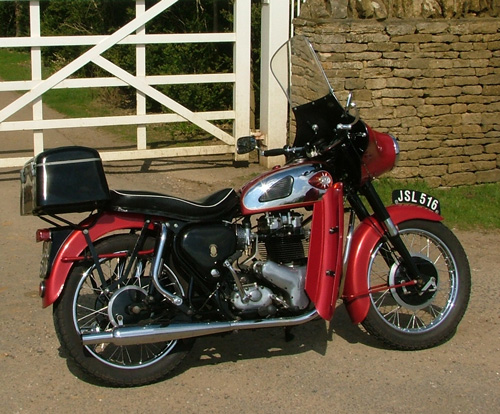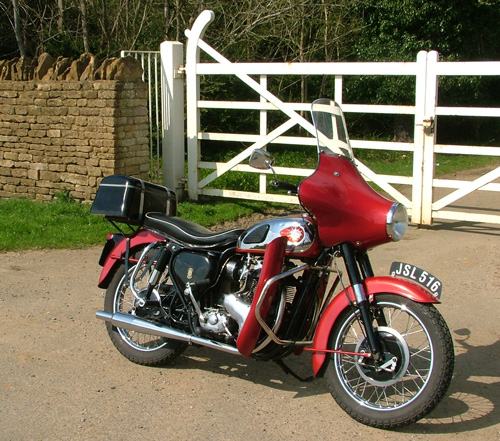 I have really come to enjoy riding the A10 and have found many good comments made by people towards it. So much so that September 2007 I purchase another! Although the second A10... The blue A10 as it has become known, is almost identical to the red A10 it does ride totally differently to the red one. It seems like someone here has already laid claim to the latest addition...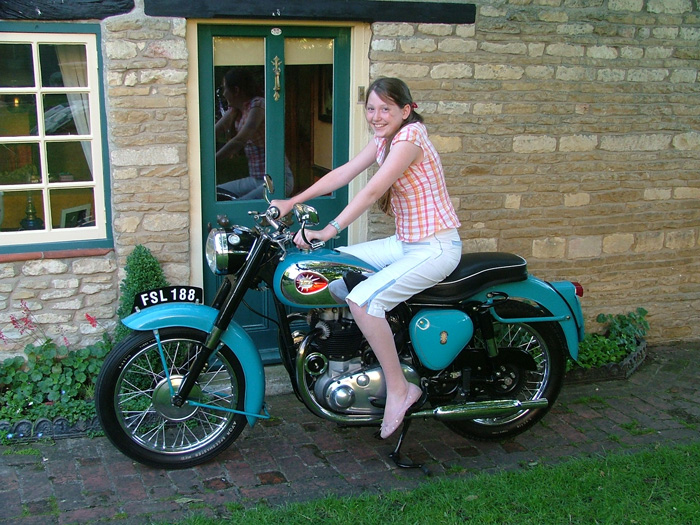 Update: Wednesday 18th February 2009.
Time to update this page I think... and I can imagine no better update than to tell of the first camping trip of the year!
It is the half term break for the kids and Iron Butt Emma's 'butt' has been softening as of late, so a little mention of some camping practice before we take on the might of the Round Britain Rally again later in the spring. We agree to take on a one night camping trip to see the very South Eastern corner of Yorkshire and this turns out to be Spurn Point or also known as Spurn Head. It is a three mile long sand bank that stretches out into the sea and forms the mouth of the great river Humber bordering between Yorkshire and Lincolnshire. I had never been there before but often wondered what it was like to pay a visit. It's a very way out place to visit, taking quite a few miles and some time in getting there.
So a little time was taken in our preparations, the bike was checked over briefly and given an oil change, tyres were pumped up to cope with the extra weight and a good application of WD40 over the electrics to keep waterproof in case of rain. Soon the bike was packed up and ready for the next days early start. Here in the picture below you can see the bike has been rolled out ready to go. Note the ingenious umbrella fitment.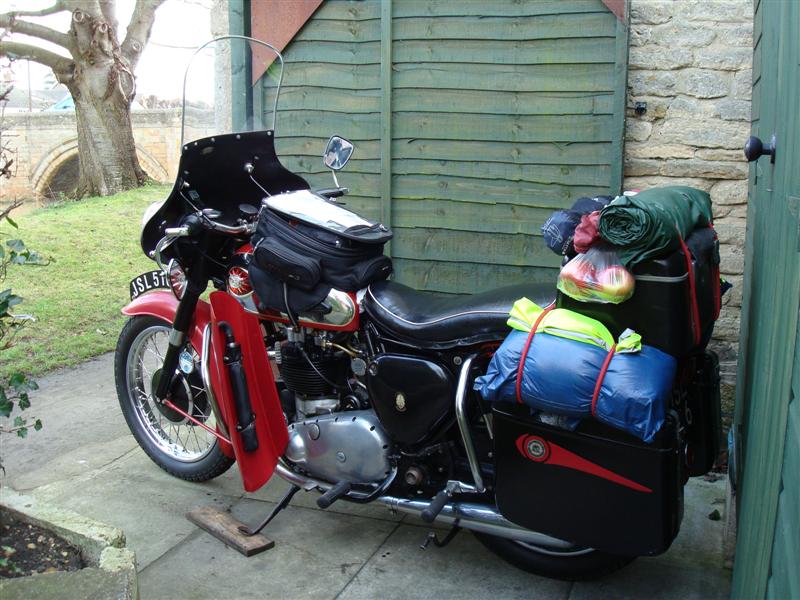 We left at 10am as planned and were soon making our way up the A15 towards Lincoln taking on a replenishment of petrol at Bourne a little distance along our way. By the time we got the RAF Waddington we were ready for a break and hastily pulled into the Airfield viewing area where Emma posed by the bike with an old Vulcan bomber behind her...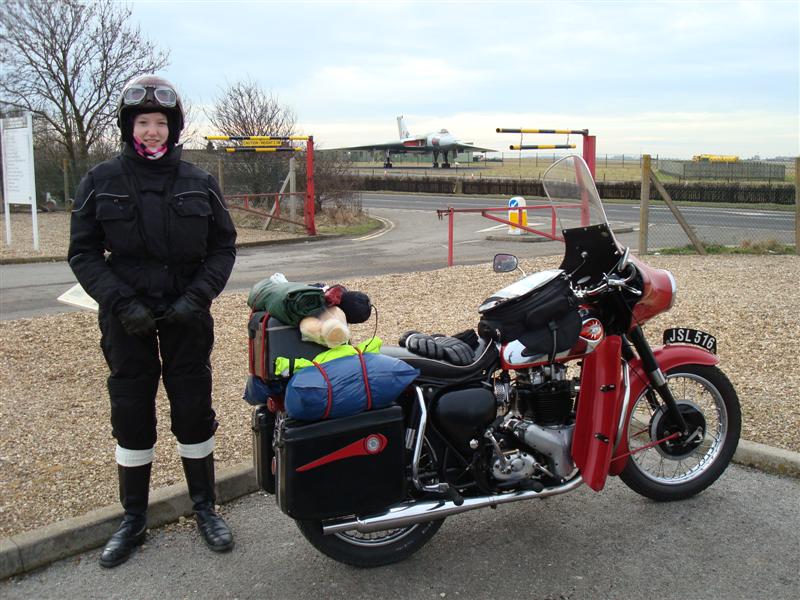 Away we went again and rather disappointed that we only saw a couple of private planes landing and taking off and nothing of any meaty construction. Passing through Lincoln that has a rather steep hill winding up by the Cathedral, and with the bike pulling up with a really pleasant burble an gurgle, we were soon on our way further up northwards. Lunch time was soon quickly approaching and once over the Humber bridge, which is supposed to be the longest bridge in the UK, we made our way to the viewing area for a roll & beer...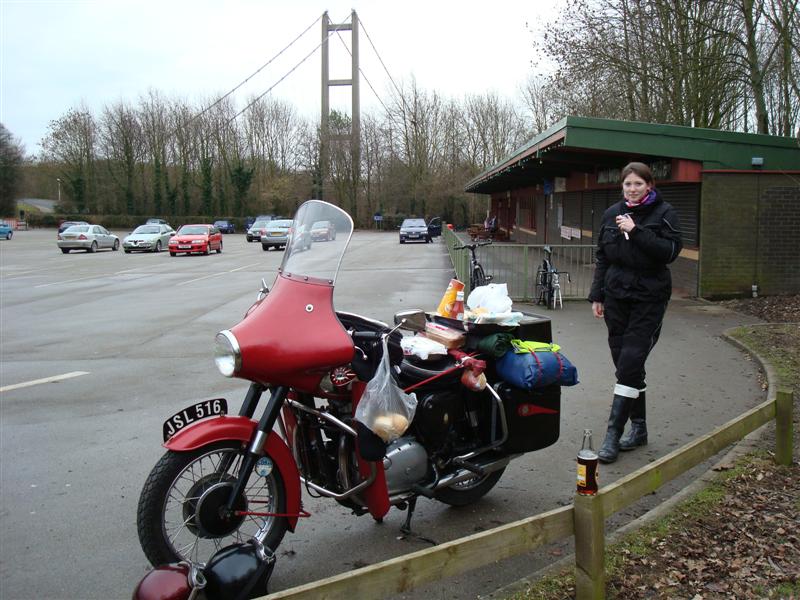 Our intention was to make our way to Withernsea and by mid afternoon we had made our way there and found the towns lighthouse to take a snapshot of...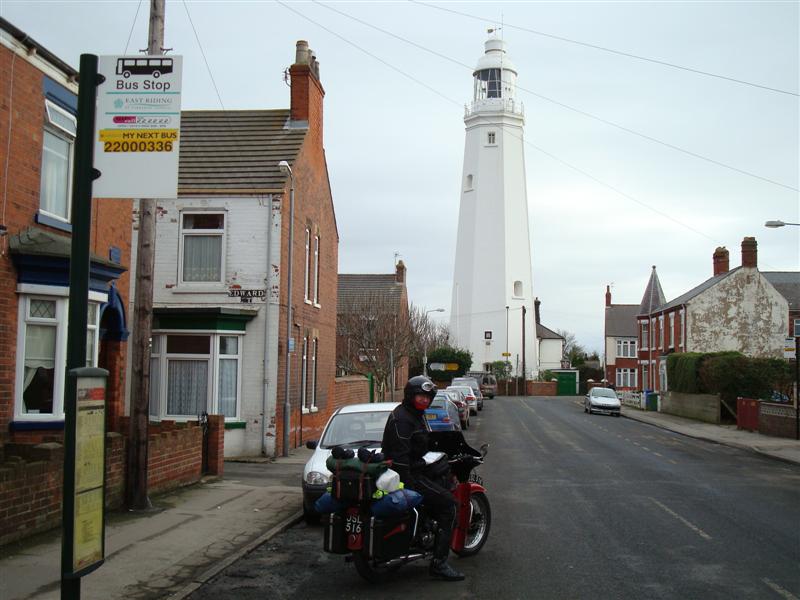 Moving on from Withernsea we were well on our way to Spurn Point, hardly any traffic on the smaller roads and this made a very pleasant ride. We passed many old and interesting buildings, one building which we just had to turn around to come back and photograph, was Emma's request for an extension on our own house, she like the idea of her very own private bedroom!...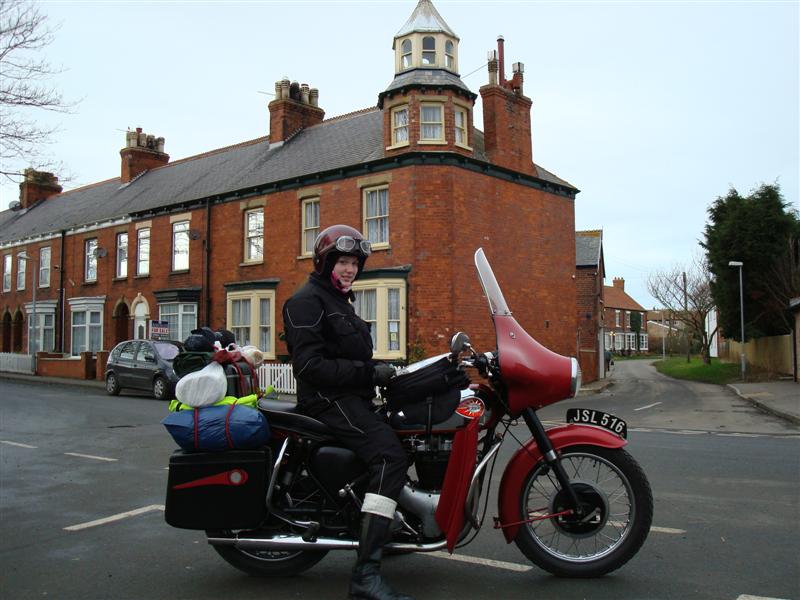 Eventually we got there and could not wait to climb one of the sand dunes to take in the views around us. The tide was out and we could see the fishermen digging their bait on the sand flats, other fishermen who already had their bait were trying their luck at hauling a cod out of the murky waters. Here in the background the A10 takes a rest...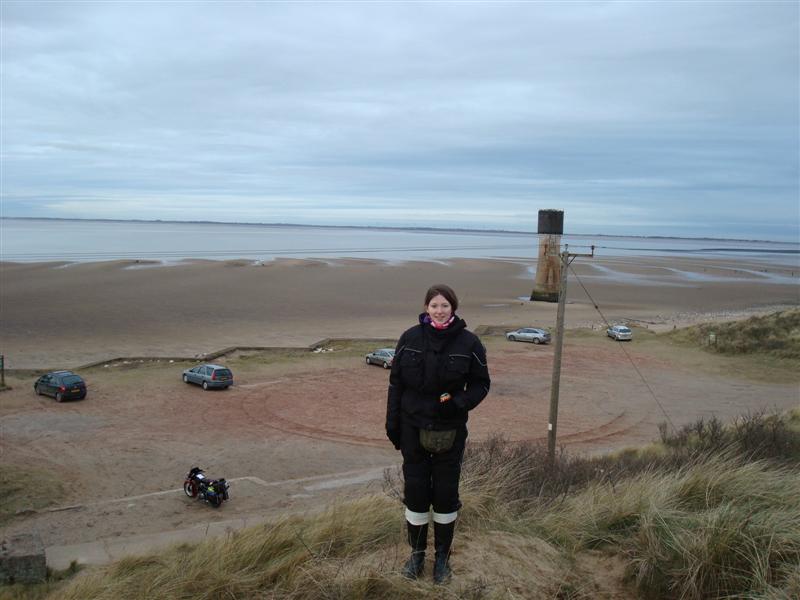 Looking at the Lighthouse on the right we decided to pitch our tent there as it was the most sheltered place around, the light was falling (sunlight) and we needed to get the tent up and a meal cooked before it got too dark, we were wondering just how much light would be emitted out from the house and if or not we would get any sleep. Here below you can see the tent has been put up and the bike chained up for the night...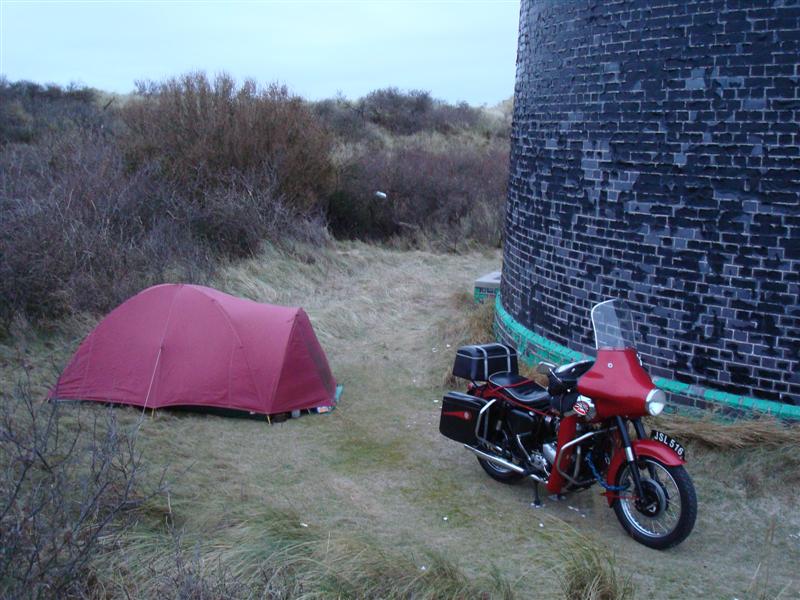 Soon we were well into cooking a grand feast, a whole precooked Tesco chicken and stir fry veggies with plenty of soy sauce, rice noodles followed by strawberry yogurts, well... Fools!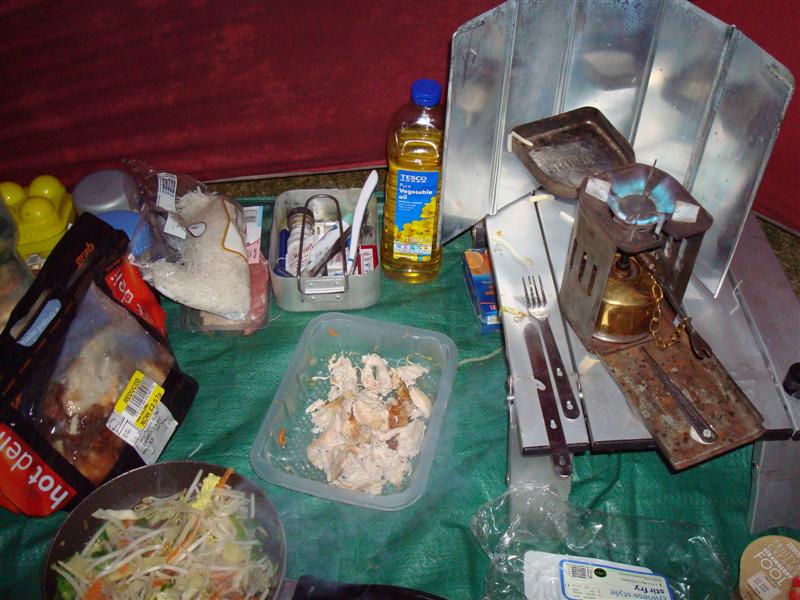 It was dark by 5.30 - 5.45 pm and there was nothing to do after clearing and washing up, so beds were made ready and an early night was on the cards. It was falling quite a heavy drizzle outside the tent but the wind had dropped considerably and we were both soon in the land of nod. The bike would be okay outside on its center stand placed on cut out squares of alloy to avoid sinking in the soft sand...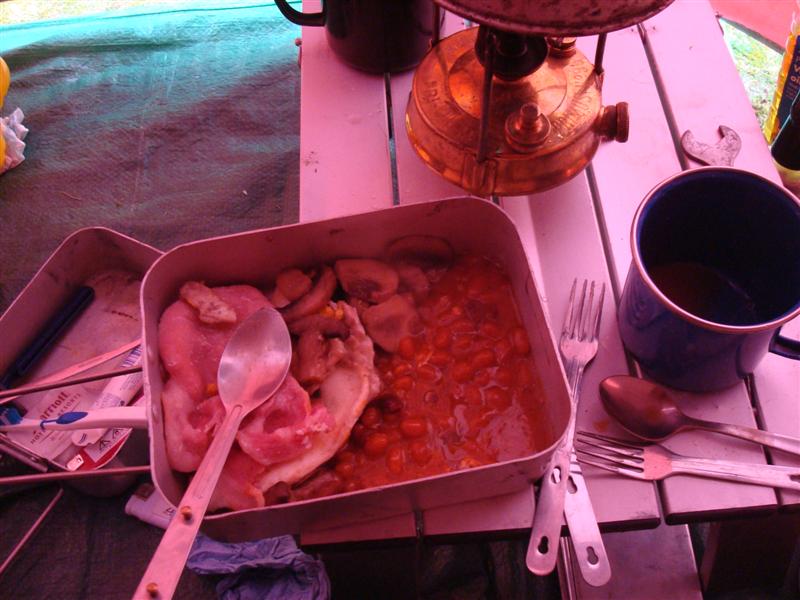 Morning soon came around considering we had nearly twelve hours sleep and soon bacon, eggs, mushrooms and curried beans were cooking. Plenty of tea was drunk and so we were full for a good few hours to come. Our plan was to make our way back home via the East Lincolnshire coast line, once again crossing the Humber bridge and picking up the A180 to Grimsby, but before this we had to rip down the tent and then pack up the bike. On waking up, outside was quite thick with a sea fog, the menacing fog horns blowing, warning ships in the estuary of their presence, but the fog soon cleared and we were quite warm packing up the bike. Our first disaster struck at this stage just as we were nearly packed and ready to set off. I had accidentally set off the tyre inflator foam can, at first I thought it was some left over washing up foam, but this foam was growing and was also slightly sticky too...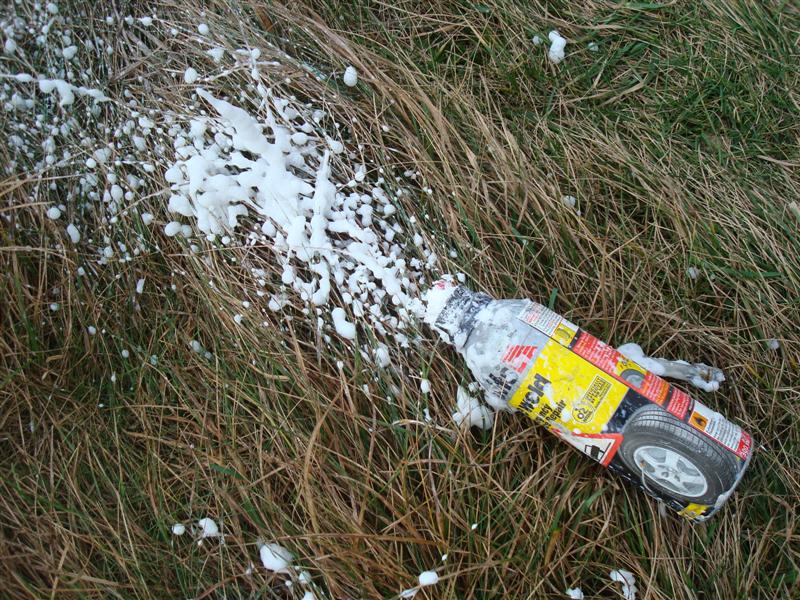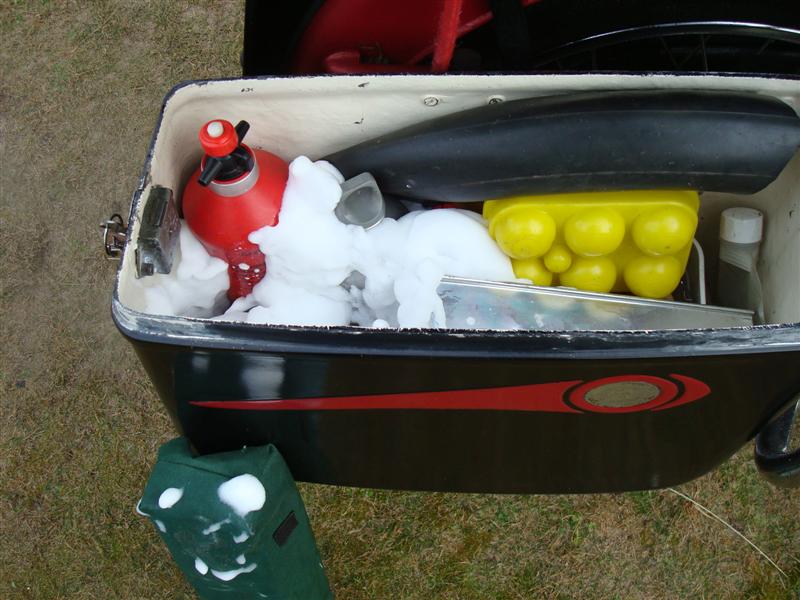 We soon got cleaned up and were ready to go, one last look around to ensure we had not left any rubbish and we were on our way. We had to make our way back to Hull and through the traffic alongside the docks. We passed by another interesting old building/institution which turned out to be Hull prison, how these old Victorian places look so grim...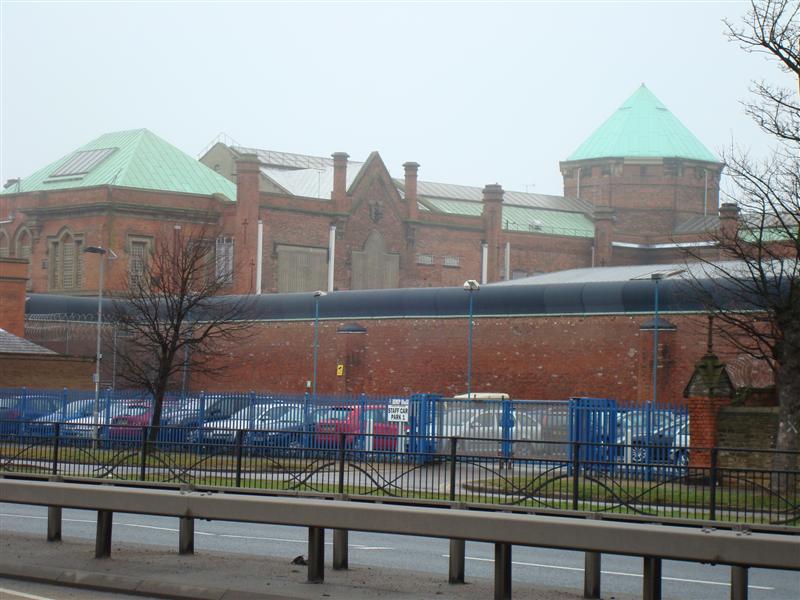 Further along the road another interesting object that we had to stop to take photograph of. This was of the old Lightship that would have been moored out in the Estuary at sometime in the past. I was telling Emma how I once had a fear of these ugly looking vessels when I was a lad. Most seemed to have met the scrap yards now and this was a gem to find...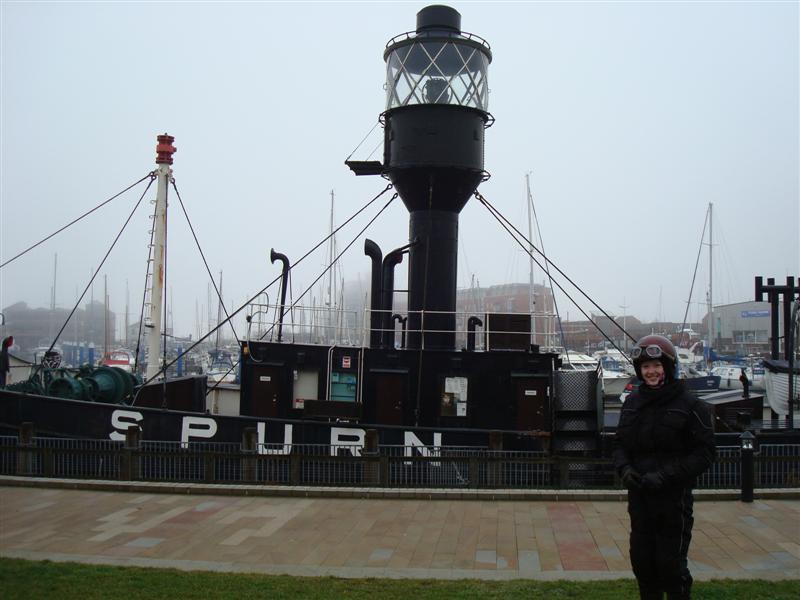 Once over the Humber bridge again and well on our way towards home we had covered 176 miles and was time to pull on the reserve tap while riding, it's always a worry and a wonder to just how many miles the reserve side of the tank would cover but a filling station was soon found, and with a sigh of relief. A one last stop and pose for a picture was well into Lincolnshire and a sort of picture that tells you just how very 'Lincolnshire' it is... You cant beat a good old pint of Bateman's ales!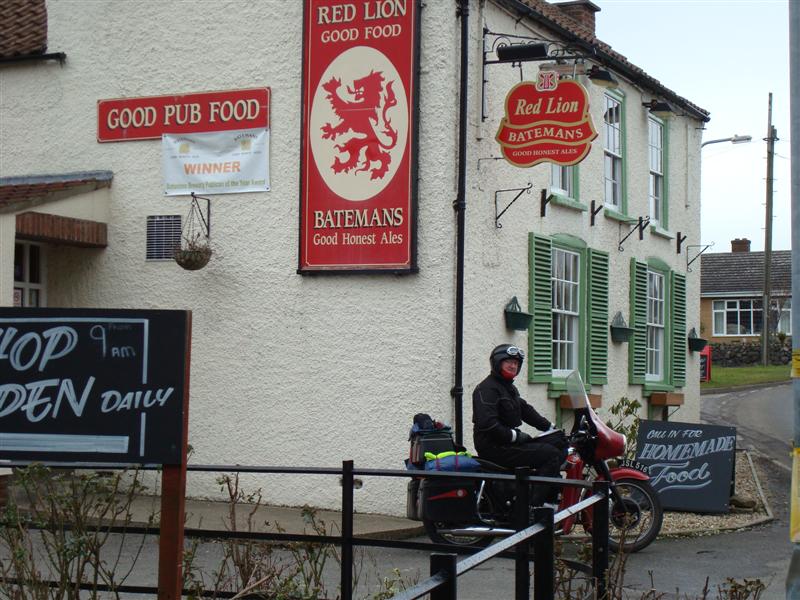 So there we have it... after a couple more stops, one at Mablethorpe and one at Skegness we were home at around 5.00pm and before the evenings rush hour.
The bike had done incredibly well and performed perfectly. It had not used any oil at all after covering a good 305 miles.
*****
Finally here's some good links about BSA Motorcycles
Take a look at the A7 & A10 forum that I like to follow
Erlings Superb BSA Golden Flash Web Site
***