The ABC Thorpes
Updated: Wednesday 6th June 2007
Starting from today Sunday 14th January 2007 I have decided to try and find all the Thorpes in an alphabetical order and as local as possible.
The first Thorpe of the alphabet is that of Apethorpe, a small stone built village in the county of East Northamptonshire we, Lillian and I photograph our first Thorpe village. A superb little village with virtually no traffic passing but a really nice pub for a welcoming beer, coke and packet of crisps, this be the Kings Head just on the right in the picture opposite the phone box.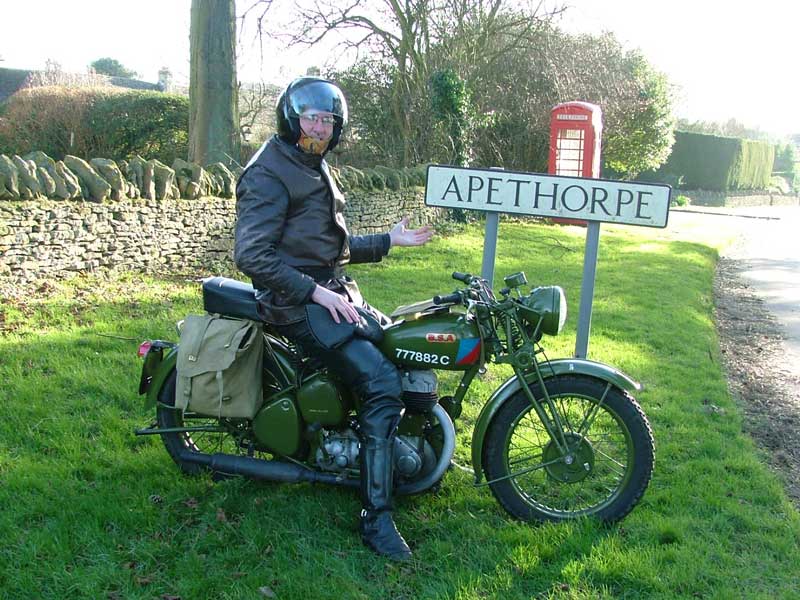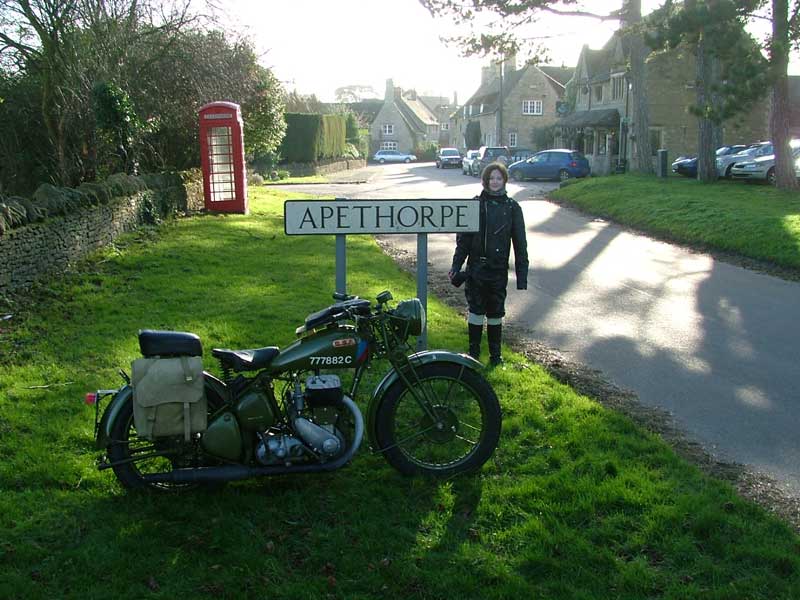 We then moved on to our next village and that is Belmesthorpe on our way home passing through the old town of Stamford. There were a number of small roads entering this village so we had a good choice of village signs to photograph. The days ride covered some 35 miles or so and in all with the weather being good we had a great afternoon out.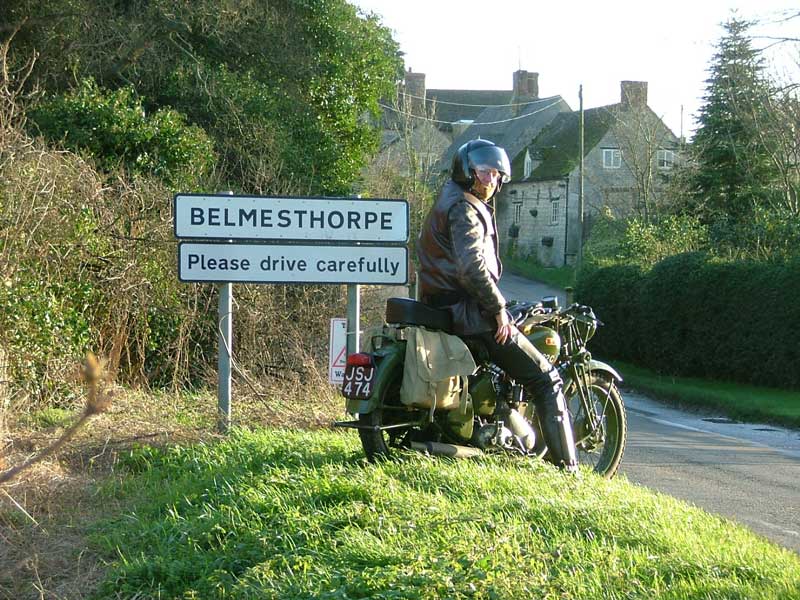 Sunday 21st January 2007
Didn't get started till about 3pm as I had been out on the BSA Golden Flash all morning and up till 3. Was just time for a quick cuppa and a change of Crash helmets and I was off out. My search today was for a 'C'thorpe and looking at the large map book showed one to be up near between Grantham and Sleaford 'Culverthorpe' I knew that I'd be pushing things as it still gets dark early and the dynamo only charges when it wants to. I eventually arrive there and found there to be no village road signs at all. This sign in the photo is for traffic coming out of another 'No thorough road' lane, I wonder if they had known they were in Culverthorpe at all. I'm not entirely happy with this find as the view is of an old barn, not very exciting to look at but shows the type of stone common to this area. On the journey home I passed another 'Cthorpe' but that was Cawthorpe and again it was a sign less village so again... no use to me. On my own today as everyone was with colds but I enjoyed 52 miles worth of fresh air!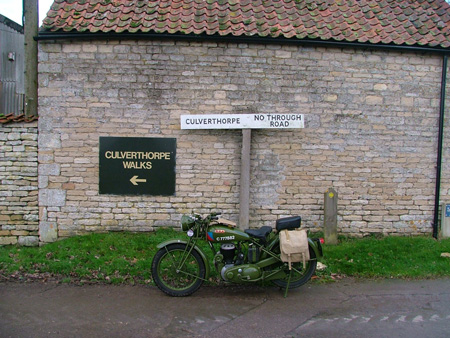 Saturday 27th January 2007
Had been itching to get out to do the 'D' thorpe all morning and it was not until 2.30pm that Emma and I got out. Our destination today was to bag Deenethorpe just outside of Corby in Northamptonshire. The roads were very good and relatively free of traffic. Once we got through the main town of Stamford and eventually off the main A class road of the A43 we soon trundled along some very narrow lanes that were still littered with broken run over branches from the recent high winds. Deenethorpe soon came into view where we posed for our snap shot.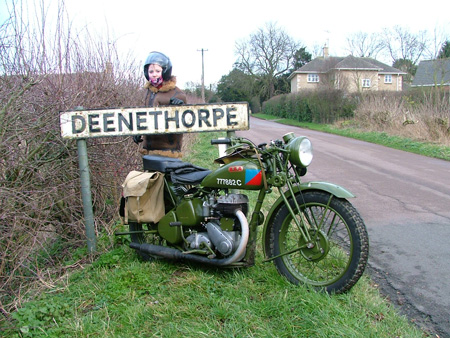 Great! Its really satisfying to have got out for a purposeful ride out and as there was still day light left we took the smaller B class roads home, hoping to come across a small shop for a bar of chocolate. We came to Fotheringhay, site of where Mary Queen of Scots lost her head, the mound in the background was the site of the Castle where she had her head chopped off 8th February 1587 I should have left this photo till that day as a sort of remembrance. Its always nice to stop here and take in the view.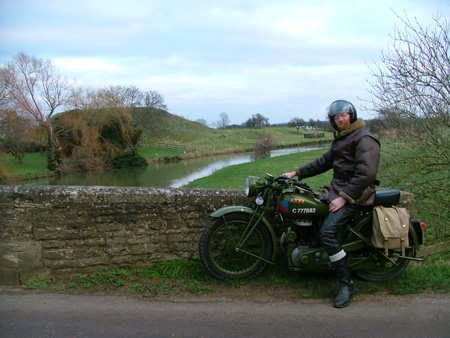 Sunday 4th February 2007
It was bloomin cold when I stepped outside the house this morning! A hard frost had settled overnight and I was looking forward to an 'interesting' ride. I have planned to get five Thorpes and had carefully worked out on a map, just where I was going to, the evening before. The Thorpe to conquer first this morning was Elsthorpe which is only a little way from where we live, another place that I had never been to or passed through before.
It is the sort of cold morning where an eyeball is so heavy with tear that you try to pop it by blinking rapidly, but to no avail. I put up with the hazy monovision and rely on the clear eye to seek the way ahead. At the same time the visor steams up and a nostril suffers from a kind of turbulence creating a sort of frequency and vacuum until well into the ride. By the time clearance comes the problem then becomes a sharp clear nasally airway which in turn clears the head. Tis what winter riding is all about and I love it!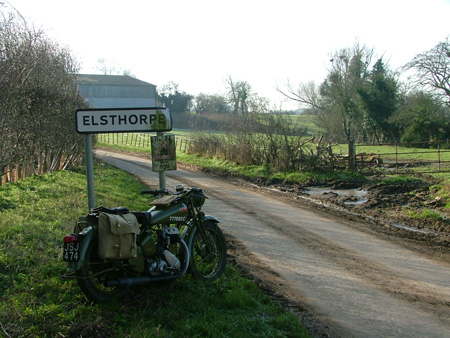 Straight off to the other side of Lincoln next which must be about 40 miles or so, As I ride across the Lincolnshire worlds I spot a hot air balloon high in the sky, I know what fun it is to try and keep up with one by weaving around different roads to try keep directly underneath, as the balloon crosses fields and villages.
My next stop for photos and a refreshment is by an oil pump, something that I never knew existed in the UK.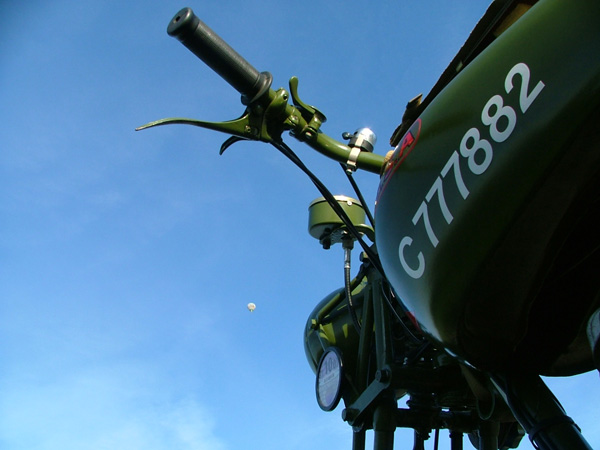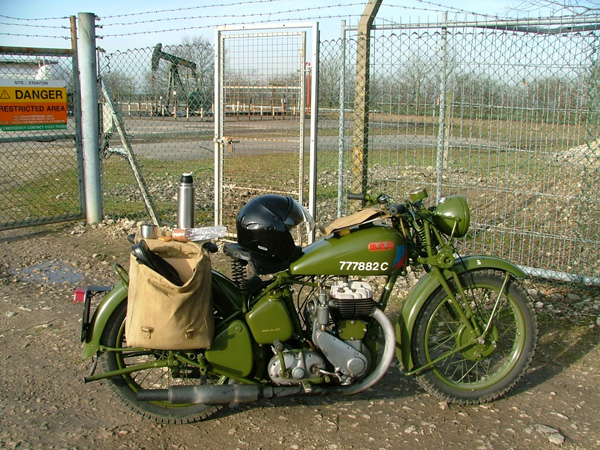 Friesthorpe soon comes into view as I pass through Lincoln, I try to find a better picture to take, possibly of a village centre sign. It seems that the writing on the notice board is hardly visible.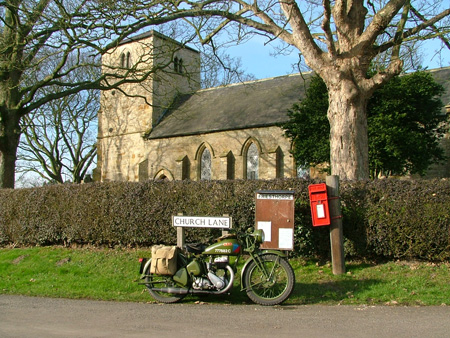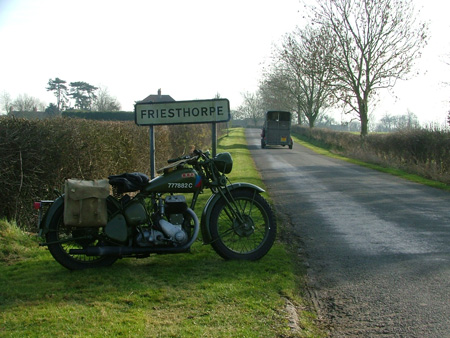 I now make my way back down south and take to the much more pleasing B class roads rather than the busy A15 main roads. After passing through the small town of Sleaford I soon get to Hanthorpe. I cheat a little here as I collect the K Thorpe earlier on to save me time in going back there after collecting J Thorpe. This I do with Hanthorpe as Grimsthorpe is a few miles further on and I did not want to cover the same ground too often.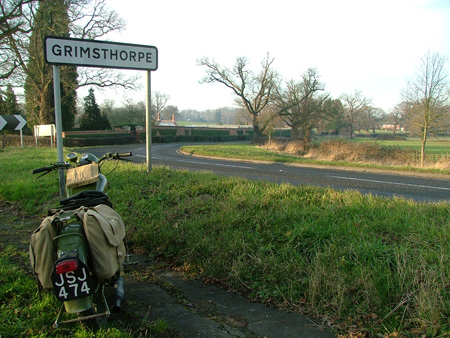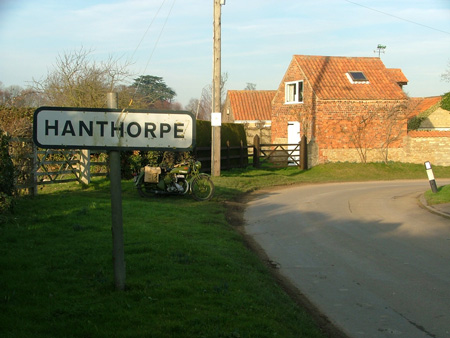 I finally need to collect the fifth Thorpe of the day to achieve my target for this weekend. Ingthorpe was only a few miles away and the sun was starting to set quickly. It was also quite hazardous as the sun was meeting the horizon rapidly. Again many of these roads I had never ventured out on before and I did not want to hurry the ride, I even stumble across another C Thorpe that doe's not even show on the map! Strange place it was as it was right at the foot of a very steep railway embankment an was quite a dark village. It lies along side the very track that took the first steam engine to reach the record 126 miles per hour.
On to Ingthorpe which lies just by the main A1 road from the north to London, a village that houses just one farm house! There was nothing else to be seen at all apart from the Farm sign, which by now as the sun was setting, had to do.
I'm left now with the challenge to find J Thorpe and this one is not going to be easy. I have only had a brief look and come up with Jordanthorpe which is just to the south of Sheffield, I suspect that there won't be any village signs at all. It could be a village that has been absorbed into the large town of Sheffield and has now lost it's 'village' status. Unless you know of a better J Thorpe then this will be the next destination. Feel free to email me and let me know of anything.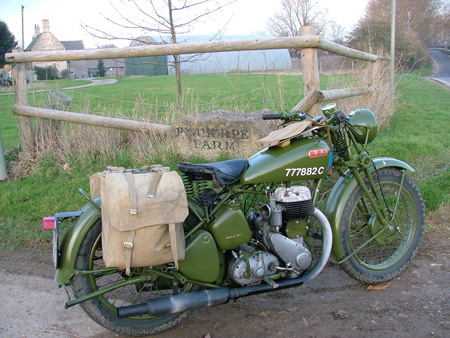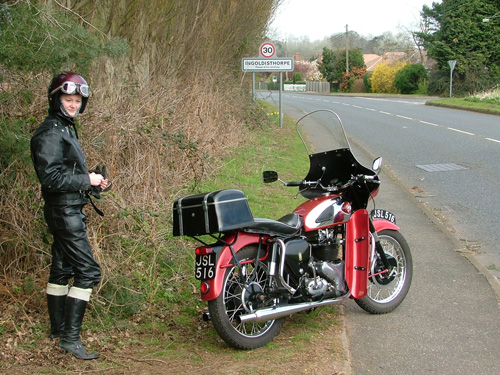 Note: We found Ingoldisthorpe while on the way to Hunstanton Easter Monday, on the A10 Golden Flash, cant really see the sign and we were on the wrong bike! So... We'll have to do it again and properly!
Sunday 11th March 2007
Great! Bagged Jordanthorpe today, I was not really looking forward to trekking all those 89 miles to Sheffield, but after a bit of determination I set off this morning soon after 10am. I had met up with the local BSAOC boys and set off with them to our clubs regular watering hole near RAF Cranwell. After a mug of tea and a bacon sarnie we parted and I was on my way again in search of Jordanthorpe. I eventually found it on the south side of Sheffield and a very grim looking place it was too, I didn't spend much time round there. In fact I snatched my photo and turned round to come home almost immediately. K Thorpe comes next in the alphabetical list and I cheated a little here as I got the photo of Kingthorpe a few weeks ago while up near Lincoln. I wonder what L Thorpe I'll go for? that's the next to look for on the map. A question to ponder over... Why is the Jordanthorpe sign so high?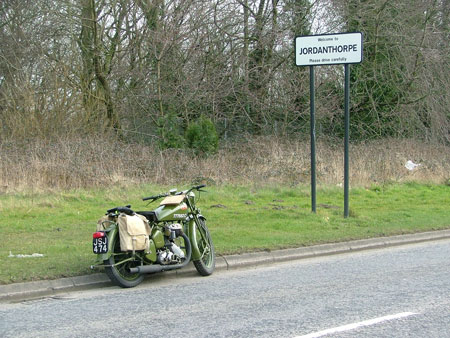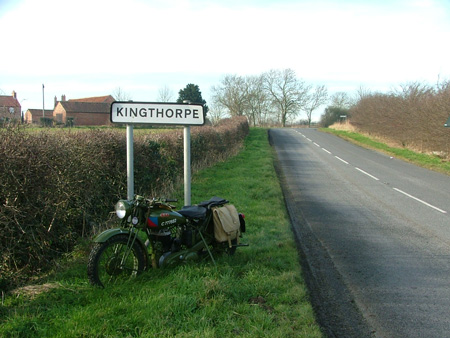 Sunday 18th March 2007
Our first stop after hitting some snow/sleet/hail showers was at a pub not far off the A1 in a quaint little stone village of Clipsham, The Olive Branch, A pint of Bateman's and a coke n' crisps for Albert and we were fully refreshed. The place had a few toffs who turned their noses up at us 'Bikers' who invaded their lunch time tipple, never mind we soon trundled off again along the Rutland Lincolnshire roads and came to pass a strange part of the forestry that contained many weird shapes of Yew trees, all expertly clipped to shape... Its not a very good photo as it's rather dark, but adding to the strangeness about the place......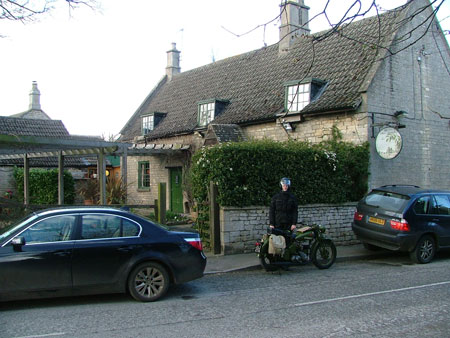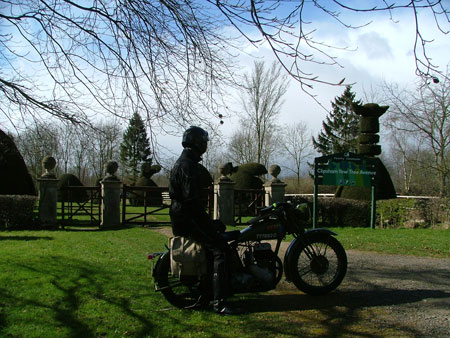 I left off last week with having found 'J' Thorpe which was Jordanthorpe south of Sheffield. This week our quest was on to search for L, M, N, and O. Here we arrive at Lobthorpe...
It was a tiny village containing only three houses, The place was lucky to have its own village road sign but still not mentioned on the map. I was prepared to ride up to beyond Grantham to collect Londonthorpe if Lobthorpe proved too remote and unknown.
We then moved on happily with our first in the bag. The photo next is the exact spot where the Steam record still stands for 126 MPH and held by the L.N.E.R Mallard... Here is a good site to look up this piece of history.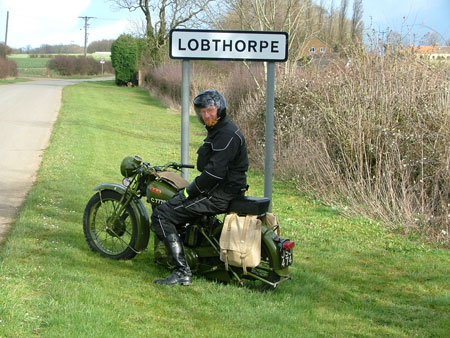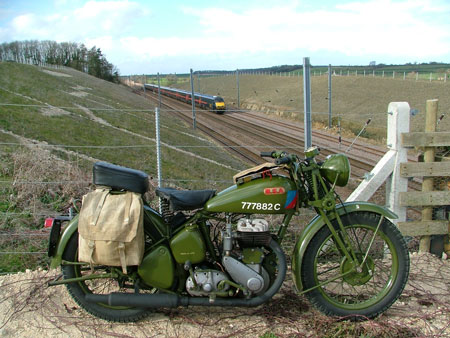 Manthorpe comes up on our list and here we visit another classic motorcyclist who is looking for a BSA for the summer, he had just restored a really nice Vespa/Lambrettor. We were invited in for a cuppa tea, and soon got very warm, it was not very long before we headed off for our next two Thorpes before heading home. It got real cold after that warm up...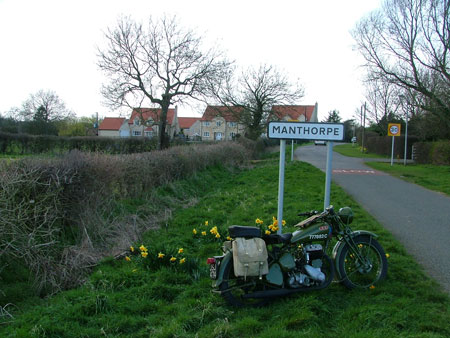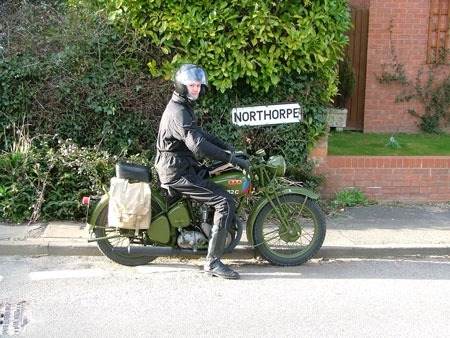 For the final Thorpe Village it was back out in to the blowey Fens of Lincolnshire. The village also has an unusual name of...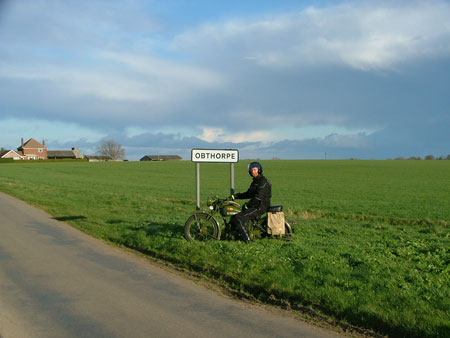 Sunday 15th April 2007
What a Bonus! On the way home from the BSAOC AGM and from finding Landmarks for the Round Britain Rally, we come across Princethorpe! Great! we now don't have to ride all the way back up to near Sheffield to find Perlethorpe.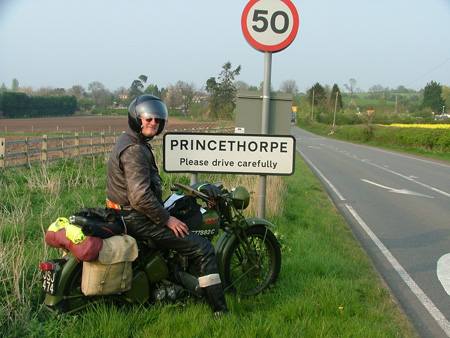 Wednesday 6th June 2007
I'm stuck! Just thought I'd add this update in hope that someone checking might be able to suggest a 'Q' Thorpe! Surely there must be a Queensthorpe, Quickthorpe, Quitethorpes or Quincethorpe somewhere. So, in the mean time the Thorpes quest is on hold.
***
Come back soon to find the latest 'ABC'Thorpe!
You might want to read the Diary of The 1948 BSA M21 by following this link.