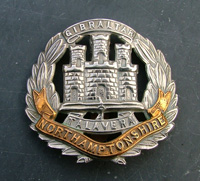 It is something that I have long wanted to do, and that is to visit the first world war battlefields of where my Grandfather was during those years of 1914 - 1918. I was to embark on a long trip following the route of where he went, but on my 1948 BSA M21.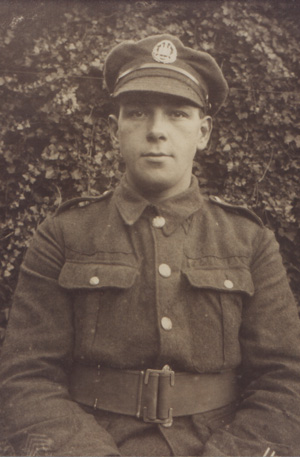 My Grandfather, John Charles Blythe who was born on the 3rd September 1894 in Peterborough within the UK joined up with the Kitcheners new army to escape Magistrates punishment for being one of a few, including his two brothers, who had started a public disorder during the autumn of 1914. He joined the 5th Northamptonshire pioneers, service battalion that was attached to the 12th (Eastern) Division. To the best of my ability I had read and discovered a rough whereabouts of where he went to. Like most people I had read and heard of the events that took place in this terrible war of some ninety years ago.
The bike was packed and ready to go that weekend of 6th and 7th October 2007. My ferry ticket was purchased on the Internet to cross from Dover to Dunkerque by Norfolk Line ferries and on the Monday 8th October at 10am the ferry left Dover for France. The whole week I was to use my imagination and to put myself in his footsteps as to where he served.
Although the 12th Division crossed from Folkstone to Bolougne just before 10pm late evening, at the end of May 1915. They then had to take train to St Omer and from there on, march most of the way to the places they were to be. They were firstly deployed behind Ypres trench digging. (I will have to make some detours to make things a little easier, it would be very difficult to squeeze in four years into one week!) Soon after a couple of months they were to be working around the Ploegsteert wood or 'Plugstreet' and this was to be my first area to visit.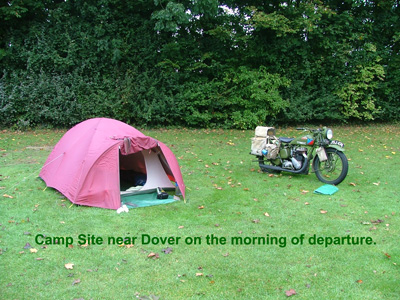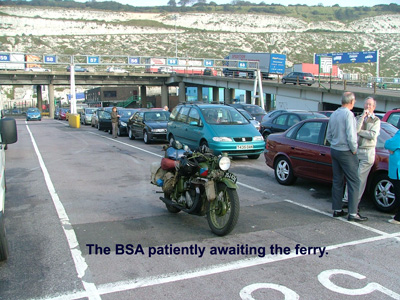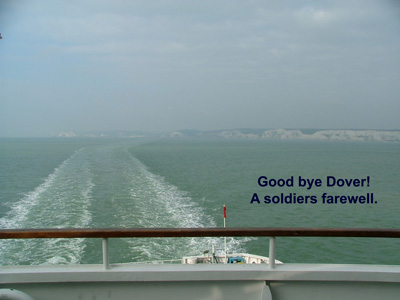 The small town of Ploegsteert was across the border into Belgium. I eventually found my way there after disembarking from the ferry and following the busy motorway down towards Lille in northern France. It took a little while just to get used to the 'wrong' side of the road. However I soon knew that I was not far from the front line when I was approaching Ploegsteert. The first cemeteries were coming into view.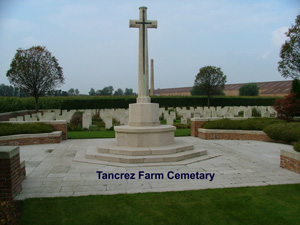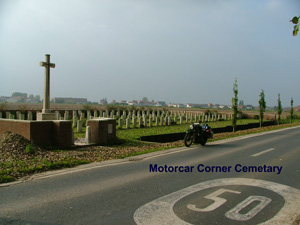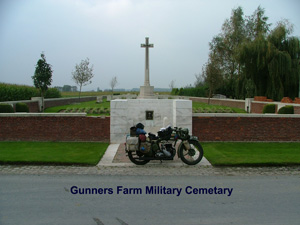 The first cemetery that I came across was the Tancrez Farm Cemetery and was at the end of a line of houses. I looked around carefully and found the burials of two Northamptonshire soldiers. There was no mention of what battalion they were in and I made note of those blokes buried there. One was Lieutenant WJ Gould who died 23rd August 1915. The second was that of 16161 Private PA Walker died on 26th July 1915. The second Cemetery there was four burials of Northants men. I quickly realised that this could be a very time consuming job recording all the Northants burials of which there was no record of what battalions they served.
By now the day was getting late as I had rode all around Ploegsteert and up to the start of the Messines ridge. I was very tempted to go all the way to Ypres which was not far away, but I disciplined myself to keep to where I had planned to go. I had passed a cemetery called the 'Underhill cemetery' and this had some awful history about the land owner refusing a cemetery to be there on his land. The bodies all had to be exhumed and moved elsewhere. How awful! The farm offered bed and breakfast but I chose to move swiftly on...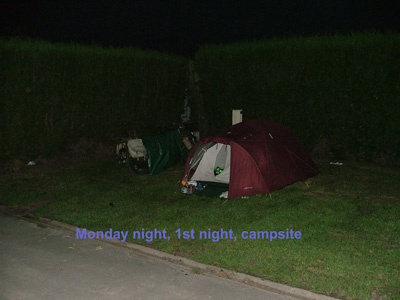 I rode on back into France to find my spot for the night and it was not too long before I came across a crummy fisherman's campsite. It was okay and I explained on my pre prepared translation sheet what I was doing and he let me camp for free! So after a meal of Fried Mushroom rice and veg curry, this was a good finish to the first day. As darkness falls early in autumn there was nothing for it but to retire into the canvas hotel and to make my notes and mark my map. I also had a very good book that I was re-reading. The book was a soldiers account of the first war from his own experience, he was also of the 12th division and gave good clues to where Granddad was. The book was by George Coppard of the Queens regiment and Machine gun corps. The book was 'With a Machine gun to Cambri'
Tuesday, The Second Day.
I found that I had to back track a little this morning as I had passed a large memorial monument devoted to the British Commonwealth Indian soldiers and I wanted to see that rather than wholly all British subjects. There was also a Portuguese cemetery nearby too and during the whole week I came to realise that there were cemeteries of most nationalities. I continued down the front line pass Festubert and Givenchy, scenes of heavy fighting as these places were parts of the battle of Loos. I made my way to Vermelles a small town behind the British front line. I was looking for a place of exceptionally heavy fighting and where there were many losses and this was at the Hohenzollern Redoubt. After a little riding round the area I soon came across the craters left by mine explosions there was not a great deal to see, but armed with old maps printed off the Internet I was able to workout exactly where it all happened. I was surprised after a 'ploughed' field walkabout, that there was not much to see other than an enormous amount of shrapnel lying on the ground. Probably for a few feet underground too. Part of the place where the events took place was near to a refuse tip and I saw rats... Not so keen to put up tent in this remote place, although there were accounts of the soldiers living amongst them. I was not brave enough to go this far as to camping with such rodents!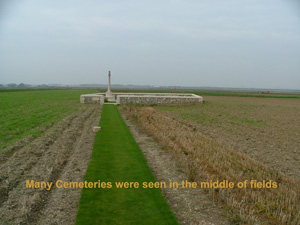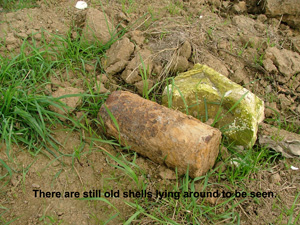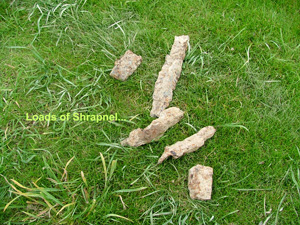 Time was going really quickly and it was soon time to find a place for the night. I had turned off the road and down a track to look over the Quarry cemetery. The quarry was marked on the old map so I needed to look over this site. Once again a very neatly kept grave yard was found in such a remote and almost hidden spot. I found a spent 303 cartridge case nearby which confirms that fighting had gone on here. There was rain setting in now and as it was late and getting very dull I decided to pitch tent next to the yard. It looked like it was going to be a creepy night.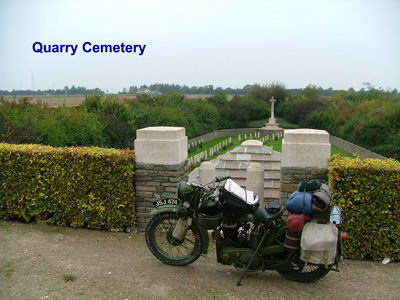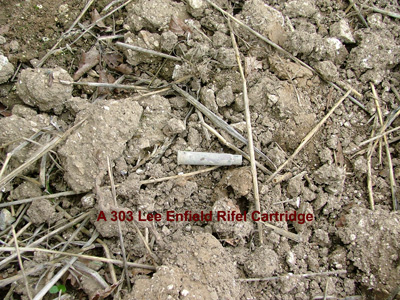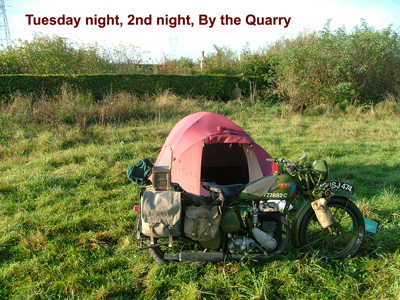 By late afternoon the rain was becoming increasingly heavy and I was glad that I had decided to pitch tent here by the quarry. The darkness came very early that evening and I had cooked a meal and had a beer and it was not long before I had the air bed and sleeping bag laid out. While I was updating my notes etc I was keeping a close eye on the water that was trying to seep through. The rain got increasingly heavy and did not stop until around 11pm. In the morning it was very pleasant and was not long before the sun was shining, quite strongly on the tent and drying out the fabric.
I had had my breakfast and was packing up when three blokes came to maintain the war grave. One bloke who spoke quite good English but with a frothy spit that was covering me like an agricultural muck spreader, he was a museum curator and was very helpful and interesting concerning the area I was in. They seemed rather pleased that I was camping there.
Wednesday, The Third Day.
After a very cold night I packed and took a ride up a rough track for a final and closer look at the Hohenzollern Redoubt, Later I set off towards Arras.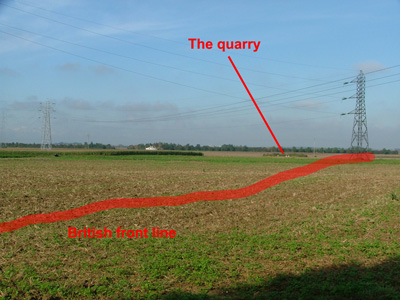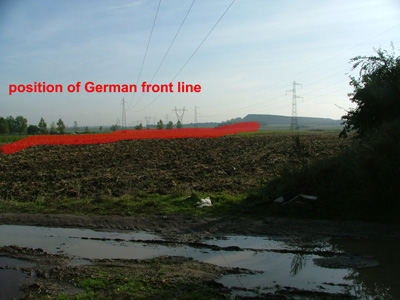 It was a good ride down to Arras, through some small towns and villages. I passed the very large French National memorial and cemetery just by the village of Souchez.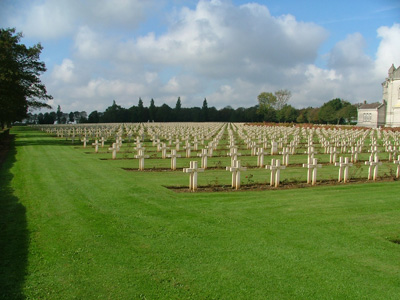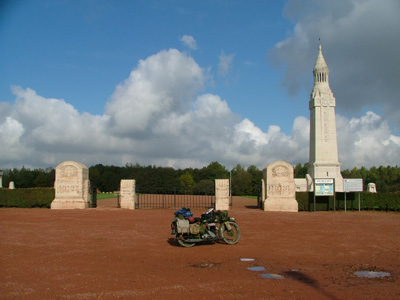 Just outside of Souchez which was also the scene of very heavy fighting and held by the French sector was another British Cemetery which was holding those who suffered on the nearby Vimy Ridge.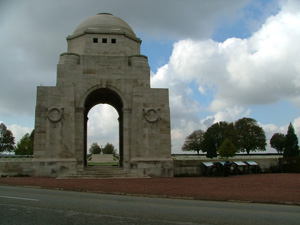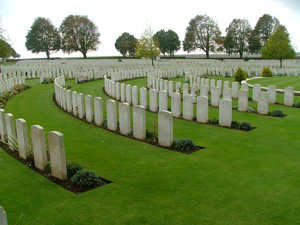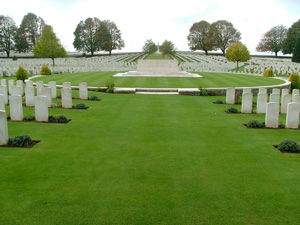 This was the Cabaret Rouge British Cemetery. It never failed to impress me of how neat the lawns were kept. I was conscious of my mucky boots walking on that immaculately kept grass. Again I did not stay very long as I was beginning to realise just how much there was to see. I was on my way now to Vimy Ridge... Before getting to the Canadian memorial on the ridge I passed some pine forests and you can see in one of the pictures below that the area was fenced off due to so many remaining unexploded mines & Shells etc.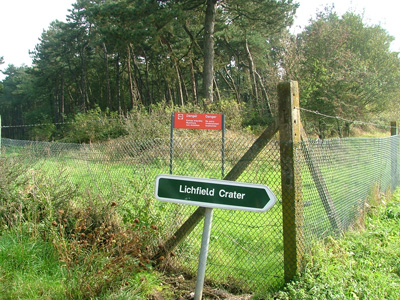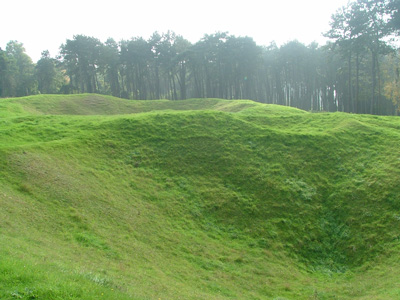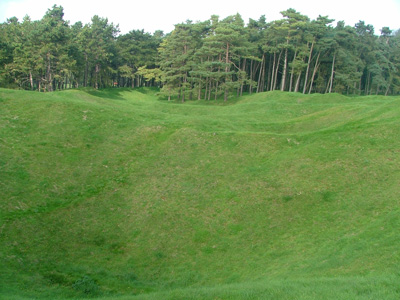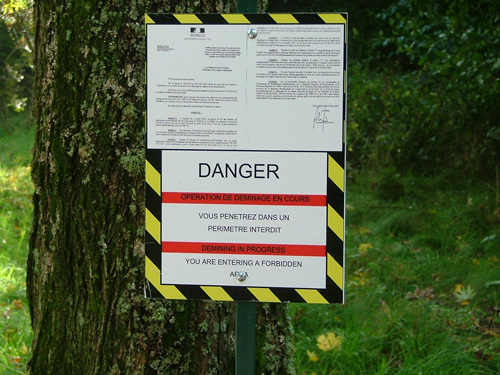 Having mentioned about unexploded ordnance I did not expect to come across a road that had been closed due to de-mining in progress! Even after ninety years there still appears to be much clearance to be done.
It seemed that the ridges, because of them being densely wooded and littered with UXBs and not farmed... They had been left so long. Seems strange as it was such an area of beauty within the pine forest.
The next two photos below show some remaining pill boxes note the one on the right with the red arrow. Even some of the ugly and obvious barb wire posts still remain and re used.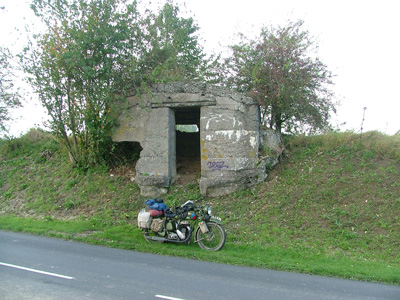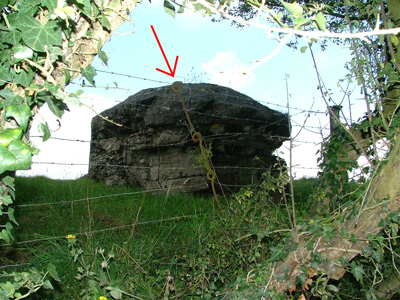 Moving on then, and having got round the madness of Arras which now is a large and busy major town compared to the totally devastated town of 1914 - 1918. I came across a rare and huge German cemetery, It is interesting to note the German Jewish soldiers graves, those that fell for Germany during the time before Nazi hostilities towards them. I could not help wondering what second war German soldiers visiting that cemetery thought about this.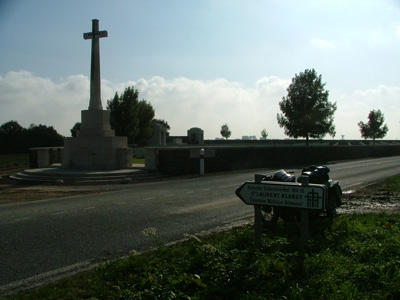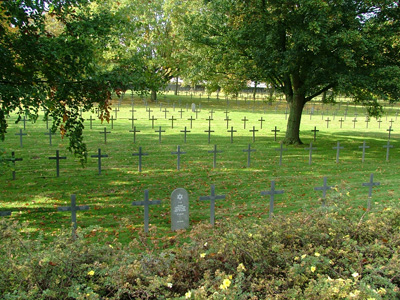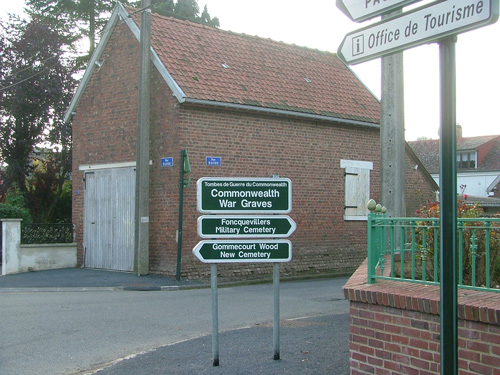 The Commonwealth War Graves sites were very well sign posted around France and Belgium and made it very tempting to want to visit each and everyone of them. All the graves had their own special names allocated to them. It made interesting discovery to learn of how they came by the names given.
Soon after a long day I was once again looking for somewhere to kip down for the night. I eventually got to the Hawthorne Ridge crater where I wanted to visit. This was just outside of the German held village of Beaumont Hamel. I camped just by the famous 'Sunken Lane' where so many wounded soldiers lay after the disastrous attack on July 1st 1916 battle of the Somme. It did feel very sensitive if that is the correct expression to use. I was shattered by then and was ready to pitch the canvas hotel once again. There was no one about and so long as I moved on early next morning, then no one would be any wiser.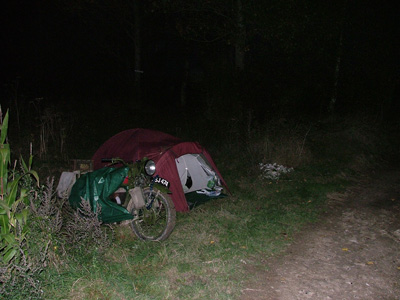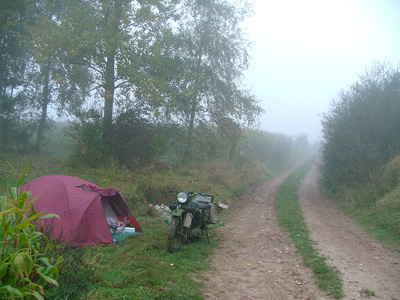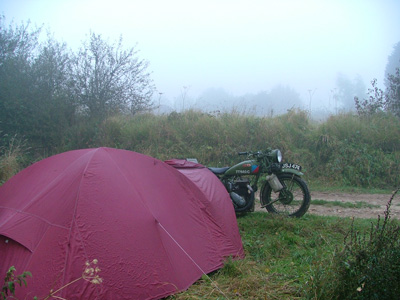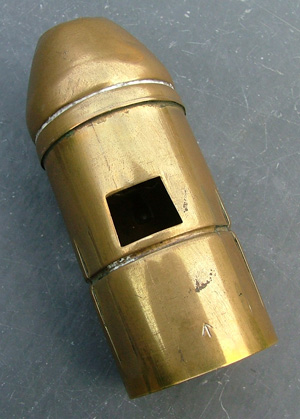 Perhaps at this stage I should mention that my Grandfather was wounded twice in the war and on one occasion he was able to pick up the object that was supposed to have hit him. The object on the right is a whistling nose piece of a messenger carrier that is fired from a rifle. It is made completely from brass with a wheel inside that gives a siren like whistle as it flies through the air. It is definitely a British item because of the war department arrow at the bottom. It's measurements is approx four inches long and one and a half inches in diameter. I had seen a complete message tube and whistle at the Imperial museum many years ago and would love to know just what its proper name is.
Thursday, The Forth Day
The Wednesday night was much warmer and the following morning, Thursday I awoke to find thick fog which along with the quietness of the area..... made it rather spooky. I was enthusiastically looking forward to this day as I was very much looking forward to exploring the Hawthorn Ridge mine crater. There is a short footage of this explosion on the 1st July 1916 found on the Internet and although it does not look much in the film, I can tell you that the hole is gi-an-nor-mouse! It was an oblong sort of hole and not circular. This probably was to take out as much of the German line as possible.
I soon got the tent packed away on the bike and moved off for a ride around the village of Beaumont Hamel. I decided to go and visit the Munich Trench seen on one of the Commonwealth war graves signs. As I rode down some narrow and very muddy farm track out to the fields the fog appeared thicker, having then parked up the bike next to a lawn path that leads to the cemetery in the middle of the field I then proceeded to walk along this. Soon the bike and road was completely invisible and only the war graves with swirling fog was to be seen. It looked like an early mornings gas attack and felt mildly alarming and chilling.
After that experience I then went in search of the Hawthorne Ridge mine crater. Luckily it was easily spotted by this sign and only a short walk from the parked bike. I had missed this sign the evening before even though I had camped just across the road on the British front line. Looking at the left photo below, the track to the left of the steps would have been the German front line extending up to the center of the mine crater.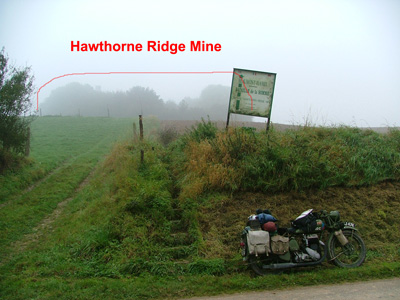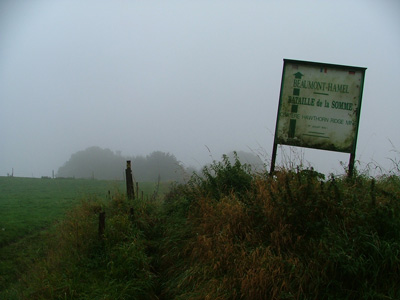 Standing on the edge of the crater and where the German line was, it is easy to see how the Germans had such a good view of the British trench and how easy it was for snipers and machine gun fire to mow down our boys. I took the opportunity to go down to the bottom of the crater which was very steep and slippery.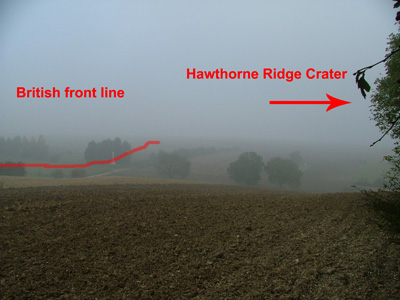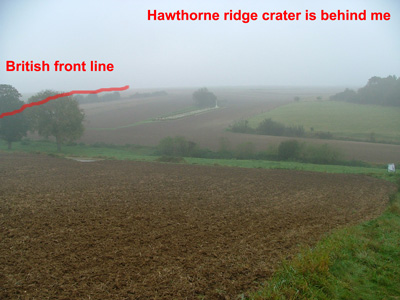 Moving on once again along the road to well behind the British front line I proceeded to Auchonvillers. This road would take me round the back of the Hawthorne Ridge Mine crater to the Hawthorne number one cemetery situated in the middle of a potato field this involves walking across a very muddy field and a good idea was soon in my mind as to how life must have been on the front.
Further along the front line I come to the Newfoundlands memorial park, here again as at Vimy Ridge, there are remains of the original trenches kept well preserved.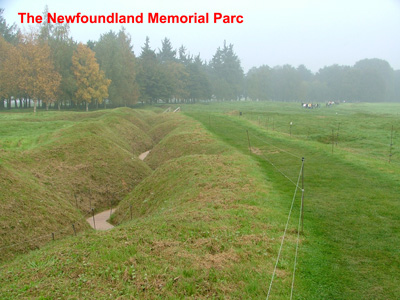 As I left this area I soon came to notice another huge memorial monument not so far away and this was dedicated to the British Army which happens to be the largest monument in the world. This was at Thiepval, a village that was completely destroyed.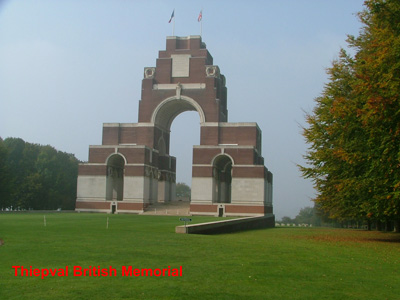 By now it was past mid day and I was getting hungry. I had the choice of eating a tin of bully beef and hard biscuits or stopping at the Le Tommy Brassiere. I chose a beer at Le Tommys!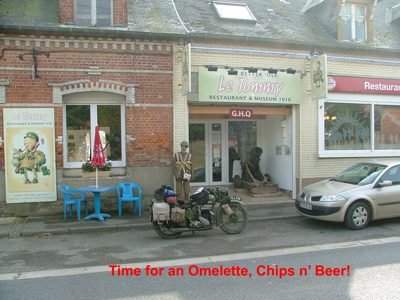 The afternoon I made my way back towards the front line at Orvillers a scene of heavy fighting, just the same as most of the line I suppose. I soon came on to the second of the huge mines. In fact the Lochnagar Mine at La Boisselle was the largest of them all and again it is Huge!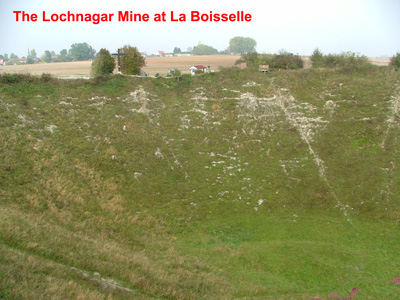 I don't know if it is pathetic to see people selling the battlefields relics but some burger stall guy at the crater car park seemed to be making a killing from it. By now it was late afternoon and dark clouds were forming. I was not far from the small devastated town of Albert... My lads name, so I hastily made my way there in search of a camp site for the night. It was a shame that I did not get to spend much time there at Albert as the town had been very expertly rebuilt to how it had looked before the war.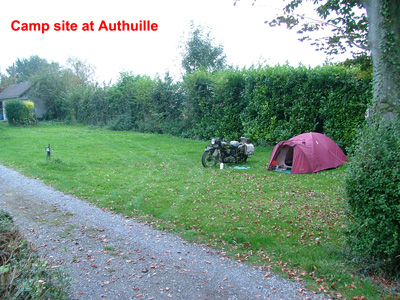 After some difficulty at first I eventually found a camp site at Authuille which was so close to the front line that I was careful where I put my tent pegs! I had met up with another couple from the UK who had just traveled many miles up to here from the South of France.
Friday, The fifth Day
The next morning I decided to go and look at the fields for artifacts. The road leading from Authuille led up to Orvillers and with the Thiepval memorial monument in the background it looked to be promising of finding some items.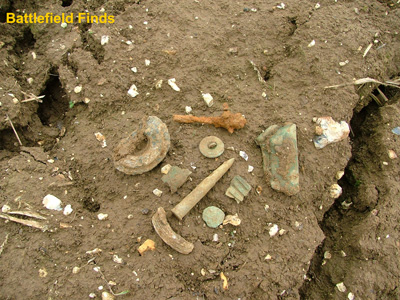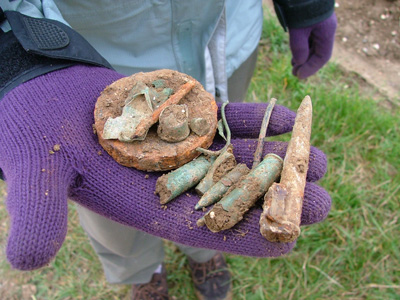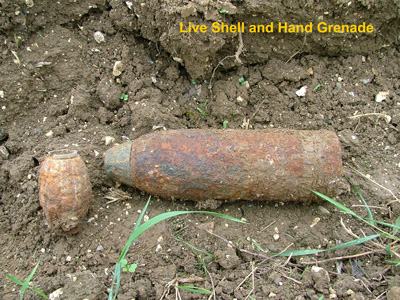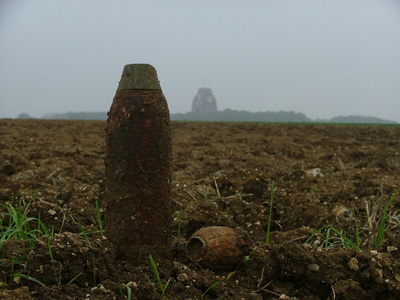 I had hoped to take home at least a button, empty rifle cartridge and a bit of shrapnel. But it seemed, and I suppose not surprisingly, I got a bit more than I bargained for! A LIVE Shell, hand grenade and 303 bullet remains on the surface. It does not bear thinking about what may still lie under the depth of the farmers plough.
By lunch time I decided to start my way back up to Dunkerque to camp and be up ready for the mornings ferry. I decided to take all the smallest roads rather than the motorways which are so boring on an old classic motorcycle. The roads were interesting although very muddy. The villages all seems so deserted in comparison to those in the UK. On my way home I still found the occasional cemetery where troop hospitals had been, safely behind the lines. And the occasional second war buildings and shelters were seen scattered around.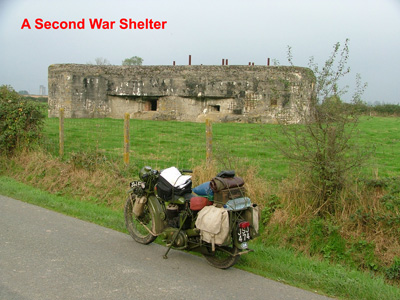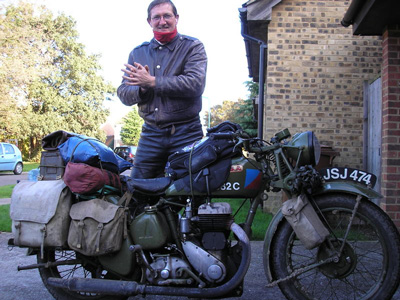 And so, Saturday morning I had crossed back into Blightly and was on my way home. A stop over for bum break, and tea with sandwiches from a good friend and his wife, Shaun Gibbons also known as The Kent Correspondent.
I had covered some 698.9 miles from home and back. I could not say that it was a... Fantastic time because it was more sombre than anything. I may have to go back some time to re visit the town of Albert again.
My Grandfather survived the war along with his brothers and remained in the territorial force for sometime after.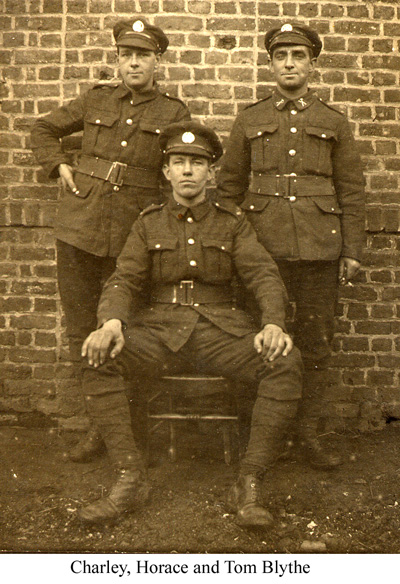 FIN