The Carburetor Maintenance Page
Updated: Sunday 11th March 2007
The Carb in question is a pre monoblock Amal ?? whatever carburetor, with visible markings on it to show that it is an 276/024R which means absolutely nothing to me at all. I gather that these markings indicate the jet sizes in side, I may have to come back and correct this page later. As I say it is a new learning experience for me.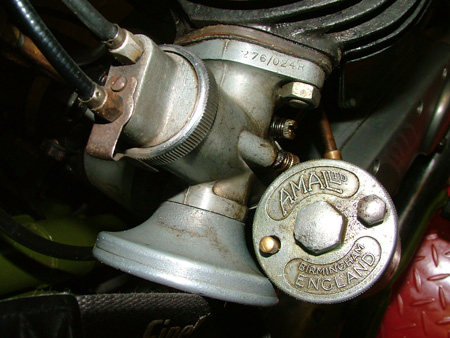 You can see the type of Carb the M21 has here.
So far so good, Now I need a day in the workshop to dismantle the beast! Check back soon eh?
Sunday 11th March
Not done anything to the carb yet because since fixing the magneto the carb seemed to be behaving itself! It will need looking at though as the seals are still a little weepy. I find also that it will leak badly when the bike is resting on the field side stand this maybe because the seal at the bottom of the float chamber is dirty or purely just needs to be vertical for a good 'shut off' I really need to at lease take a peep inside before the looming 'Great Northen Quest' (More about this on the blogg page later) I wonder also how the carb will like the hot summer with such a little 'teflon' spacer. Its good to think and try and predict what will happen later on regarding these things.
This Link will take you back to the Diary.