My 2007 Round Britain Rally Diary
Time now to turn to the third and final page of this years Round Britain Rally, and all that remains for this page is a few northern England LMs and the whole of Scotland. It remains to be seen if I actually get to complete this. I have not yet researched where I am to go next and in only a few days time when the children are back at school I hope to set off once again, but this time and like last year... I shall be on my own. I am tiring now, it has been hard work with a lot of research and writing up on these pages afterwards, but already I am enjoying looking at the pictures and remembering where we went to in the last year...
Saturday 15th September
Well I set off on the Friday morning of the 7th September at 5.00 am. I wanted to ride up north towards Lincoln and see the sun rise to my right. After a couple of hours or so of riding I eventually arrive at the first LM which was just near Bempton in the East Riding of Yorkshire and a strange LM it was too... The Jaw Bones Corner Memorial.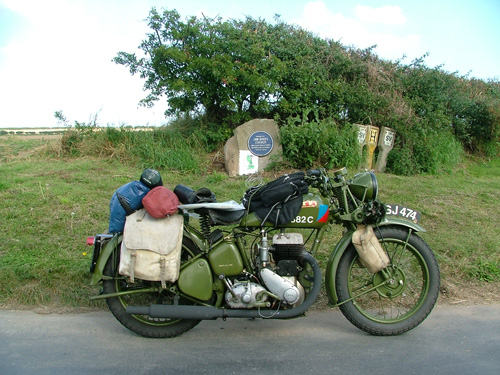 LM 50 Bempton East Riding of Yorkshire
The second Yorkshire LM was not so far further north to a very small chapel out in the fields near to the village of Upleatham. Thankfully I was given good directions as it could have taken alot of time to find this rather difficult to find LM.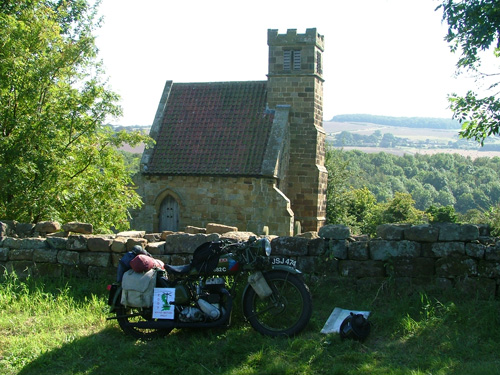 LM 52 Upleatham North Yorkshire 2
A fairly easy LM to find in North Shields which was just off the main road from the Tyne tunnel. I wished that I had been at this LM on the hour as the chime is suppose to be quite impressive. But time was short and there were many miles to cover. I now had three LMs in the bag and the goal for each day was to gather four LMs.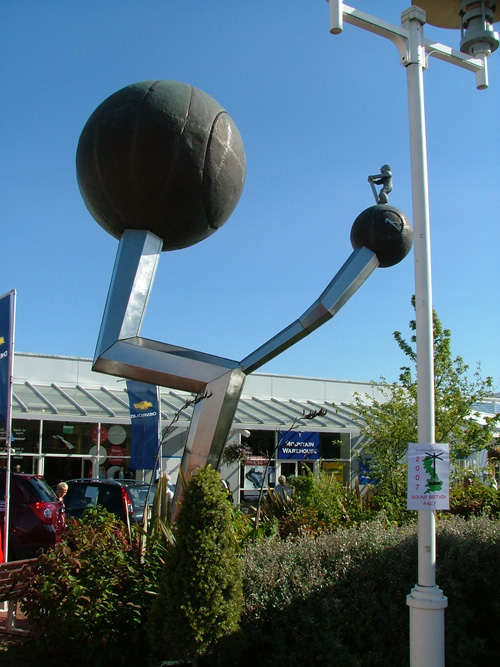 LM 43 North Shields Tyne & Wear
On then into Northumberland and to the village of Denwich just off the main A1 road to the north. This was another LM proving to be quite difficult but again I was lucky. Thanks to the old vintage bike that I was on because another motorcyclist turned round to come back and ask if I was ok. I explained what I was doing and looking for the Malcolms Cross memorial. He knew exactly where to go and kindly led me there to it. Brilliant! I would never had found this one.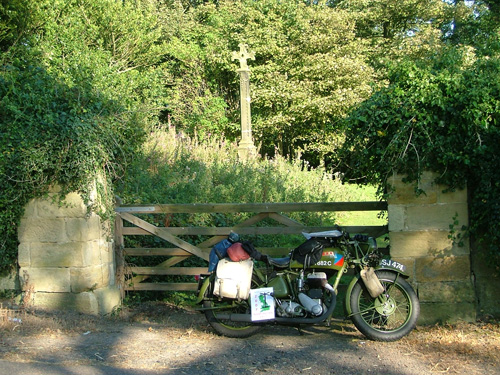 LM 32 Denwick in Northumberland
I had now achieved my goal for the day and was gently riding further northwards towards the fifth LM and keeping an eye open for a free camping pitch for the night. I crossed the border into Scotland still traveling up on the A1 which now was single carriageway and quite deserted in comparison to the same road south near London. I come to Skateraw where the Memorial to the Reverend R.W.V.S. Wright was, and this was to be found right on the sea edge at Chapel Point near a Power Station. Not a very attractive place but must have been very nice in earlier days. The memorial was dedicated to a group of lads who were scouts in their younger days and had fallen in the great war. The site was where the lads came to camp. It was also an ideal place for me to pitch my tent for the night.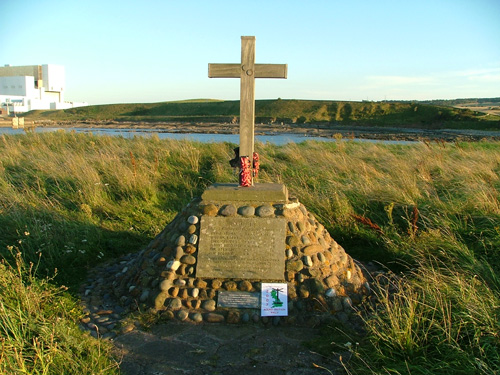 LM 72 Skateraw East Lotian
Up early before the dog walkers were about and off towards Edinburgh and to get across the bridge to find Charlestown and the Lime kilns... Easily found after crossing a rough cobblestone sketch of road on the old rigid bike frame. This was a fascinating place to visit and one of those places that needed more time to explore properly but time again was short.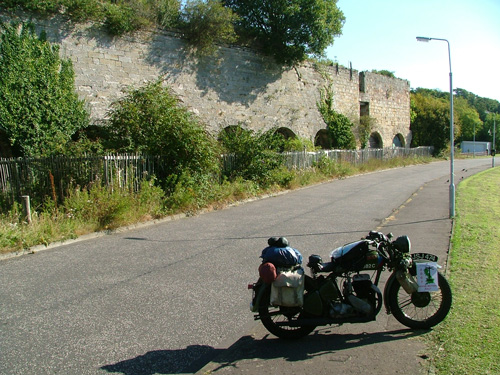 LM 65 Charlestown Fife
I was pleased to have asked a classic motorcycling forum if it was possible to get a motorcycle up to this next LM on the Balmashanner Hill in Forfar or a long walk up a very steep hill would have been on the cards. I had earlier on done a quick bit of shopping for a meal later on and a quick something to eat while enjoying the views here. Note the Newcastle Brown ale on the seat!
LM 58 Balmashanner Hill Forfar Angus
I was now looking forward to getting on to some quite B class roads and these would lead me to the Auchindoir Church ruin near Rhynie in Aberdeenshire. Two photos are provided here, one showing a sign pointing to the ruin and one of the ruin itself.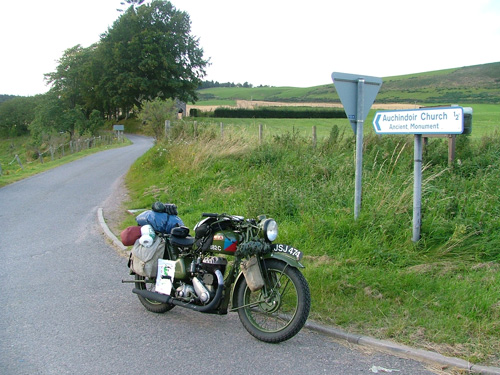 LM 57 Rynie Aberdeenshire 1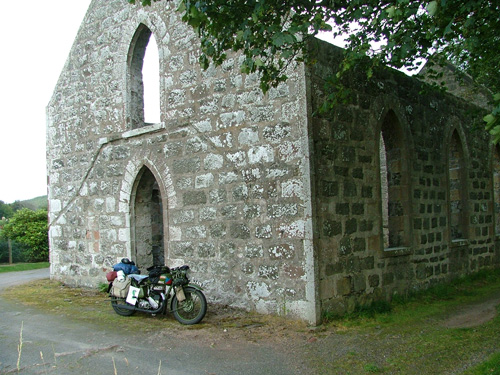 LM 57 Rynie Aberdeenshire 1
This next LM also took a bit of researching and I found this to be the restored buildings around the harbour of Portsoy on the north coast. The plaque was very small and high up on one of the buildings. This was the Saltire Society Plaque. It was the second day and I had again collected four LMs. I was doing well and was very pleased with myself for getting this far and quickly finding the marks. The evenings camp site was just near to the harbour in the village of Portsoy itself. There were some other motorcyclist there too but not doing the Round Britain Rally, I wonder if they will read this report.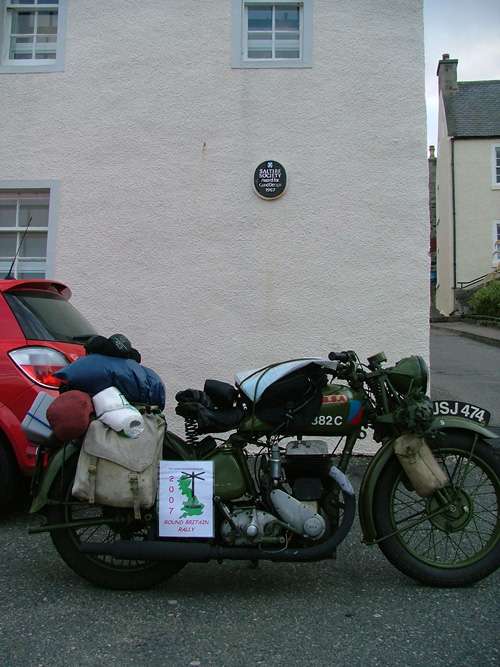 LM 56 Portsoy Aberdeenshire 2
The next morning after managing to get away from the 'old bike questioners' I was then traveling westward towards Inverness but firstly slightly heading south to collect the 1829 Flood Memorial Stone with a water level mark inscribed. This was near a small village of Relugas. At this point I experimented with some cold sausage rolls and silver cooking foil. The rolls were wrapped and placed on the M21s flat cylinder head after I had packed the tent earlier in the morning. A good 55mph run and in twenty minutes the rolls were hot and ready for eating. Delicious! You cant get better than this.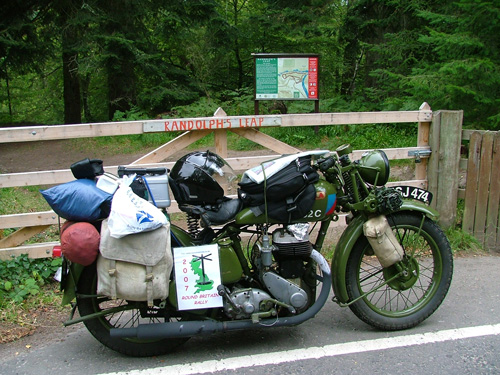 LM 73 Nr Relugas Moray
The second photo showing the marker stone.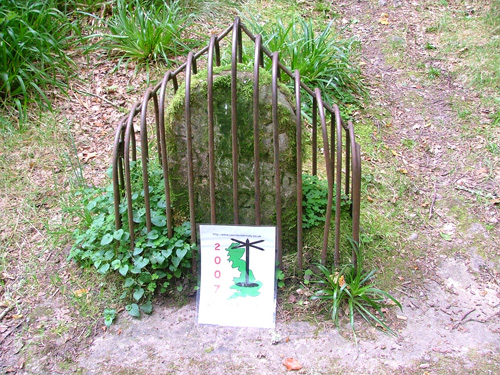 LM 73 Nr Relugas Moray
A work of art on this village sign. The fish Sculpture which was a welded steel fish. By now the weather was starting to turn drizzly although warm I had to put on the waterproofs which made things a little uncomfortable. With the amount of rust on the metal fish, it shows that there had been plenty of rain here in the past.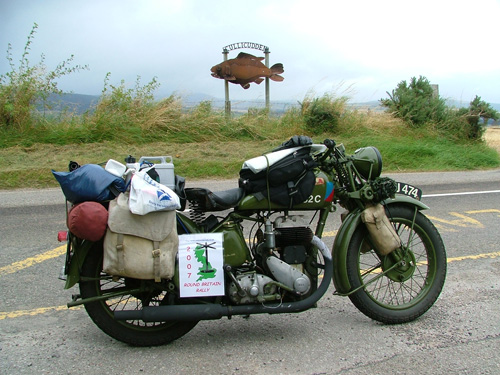 LM 69 Cullicudden Highlands 4
The roads now were getting much more interesting as I was now in the highlands. The bike was having to work that bit more harder on some of the hills and with some quite twisty roads this made riding interesting and enjoyable. I soon reached Bonar Bridge and to find the 'Story of Earlier Bridges' monument.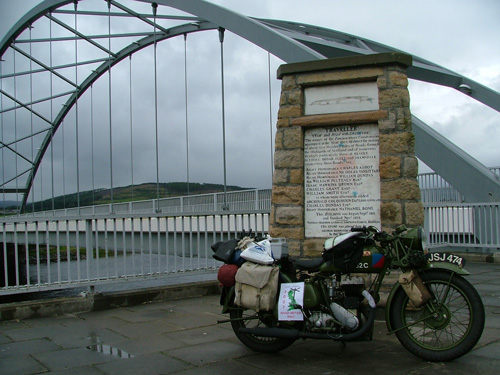 LM 68 Bonar Bridge Highlands 3
The fourth LM on the third day was just nearly reached but not photographed till the following morning as the weather was wet and very windy. I was now on the west coast at Achmelvich and next morning hopefully with better weather I would be looking for the Hermits castle. I imagined this to be a huge structure as castles usually are and wondered how on earth they managed to mix so much concrete and transport it to such a remote place. I was surprised to find that the building itself was quite small and only enough room for one person to enter. This was to become one of my favorite Land marks as it is so eccentric.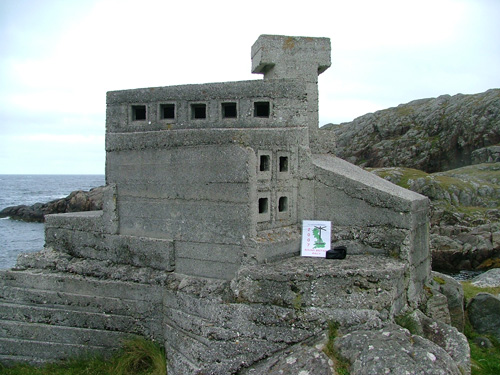 LM 66 Nr Achmelvich Highlands 1
Now a heck of a long ride was ahead of me and it was indeed worrying because of so few petrol stations in these parts. I had purchased a plastic can filled with petrol which was very reassuring. The next LM was to find the Monument to the Glendale Land Leaquers and this was on the Isle of Sky. I was impressed with Sky but surprised to find it quite busy and well populated. From the Kyle of Lochalsh bridge to the far end it was a good 90 miles round trip. I had decided to return by the ferry to enjoy a different route that I had not traveled along before. On returning I had met a couple of guys one chap Norman Castle who was doing the rally and his companion. I had met him now for the third time and we were becoming friendlier on each meet. The first time was at the Handcross LM in West Sussex and the second time was at Penmon on the Isle of Anglesey, it was nice to compare LMs especially as he was going clockwise round Scotland and I was going anticlockwise.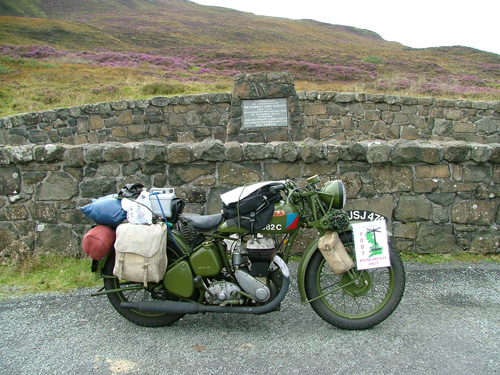 LM 67 Nr Colbost Highlands 2
After a lot of riding and no LMs collected that morning afternoon, I arrived fairly late at Inverarey. The bikes clutch cable was becoming troublesome and was very near to breaking, I had been counting the breaking strands of cable. I collected the LM photo had some enjoyable fish n' chips and headed off, I needed to find a camp site. I eventually found a quite spot next to a Lock and this is where the clutch cable gave way. The next morning meant a few hours repairs.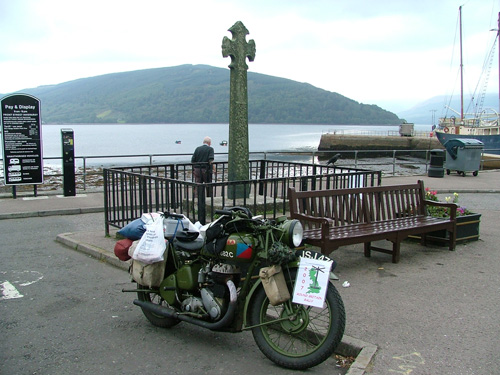 LM 59 Inverarey Argyll & Bute
The LM at Killin was easy to find, another Rallier had told me exactly where it was and it was indeed clearly marked. It was just the awkward parking that made it difficult to position the bike for a photo.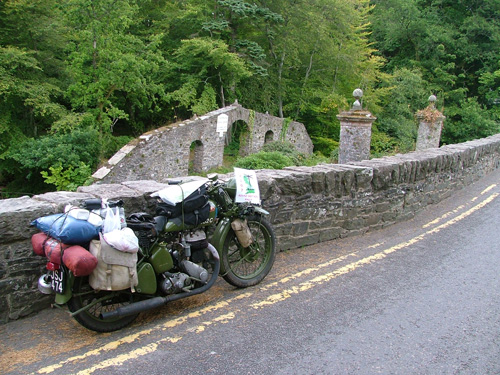 LM 75 Killin Stirlingshire
The next LM from Killin was amongst some really beautiful scenery. I did not want to hurry this but time was getting on and I was on the lookout again for a campsite for the night. Unfortunately there were plenty of signs forbidding camping. Grrrrrrrr. The LM was a first War memorial to the men of Glen Lyon. Its amazing that so many men were mentioned on this memorial and yet I hardly saw many people about. I wondered where they lived.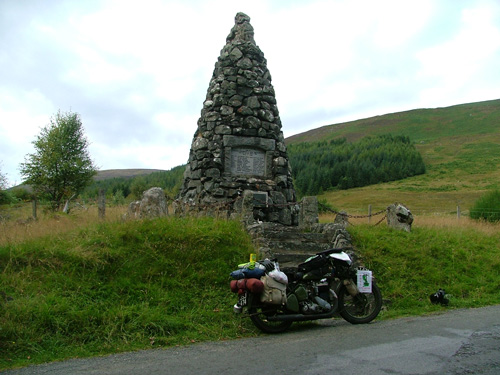 LM 74 Innerwick Perthshire & Kinross
Bit of a crazy but interesting LM this next one... A carving of someone who had got his boat in a bit of a twist. This was in a Marina on the Clyde. It's a sculpture that was quite impressive. I always wonder how much money some of these sculptures cost.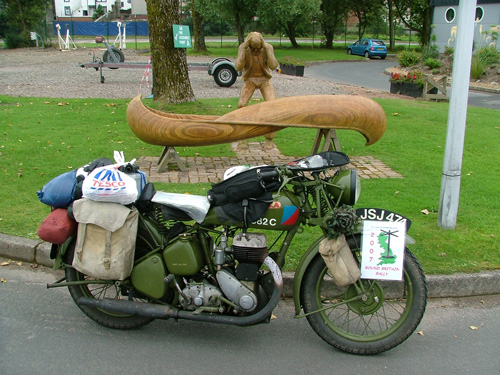 LM 70 Inverkip Inverclyde
Another castle to visit but more of a ruin so I did not bother walking all the way up to it. I still had many miles left to do and by now I was getting back down into the south of Scotland. I had broken the back of the journey and feeling like I had broken my backside too on the rigid framed BSA! Thanks to the sprung seat I may just make it back home.
LM 60 Ballantrae South Ayrshire
I wonder who finds some of these LMs. This one was right down out of the way where hardly many tourist go. Still plenty of locals there. This was a Chapel dedicated to St Ninian and was an important destination for pilgrims many years ago.
LM 64 Isle of Whithorn Dumfries & Galloway 2
Another interesting LM, strangely it is of a Rhinoceros on top of a bus shelter. Some kids in a local school thought it up. Strange Kids!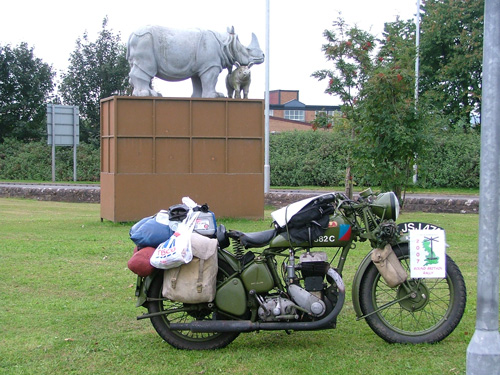 LM 63 Lincluden Dumfries & Galloway 1
It's crazy I was now heading back up to the north of Scotland again for the next LM. I needed to get to Douglas to find the Polish memorial garden, again it was back out riding in the wilds of Scotland. The area is known for good gold panning but no time for that today. Must press on...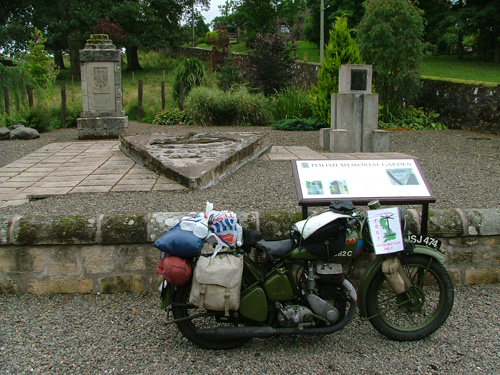 LM 71Douglas South Lanarkshire
Another LM in an awkward place but the views here were fantastic. It was the devils bowl where someone was murdered many years ago and his memorial stone was just over the barrier.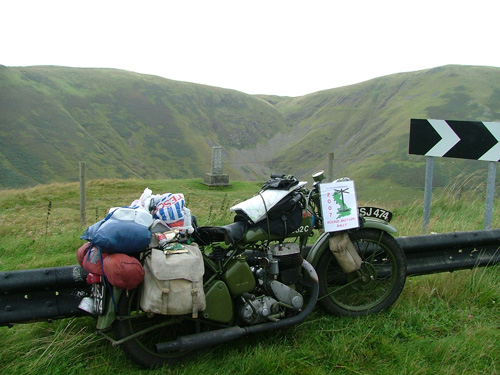 LM 61 Glenbreck Borders 1
Not so long ago a well known motorcycle racer was killed flying his helicopter which crashed near here. Friends built this memorial cairn for him. His name was Steve Hislop.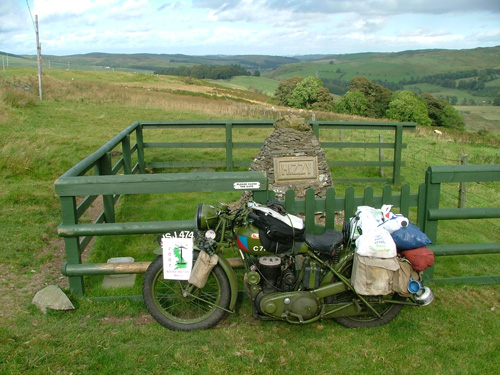 LM 62 Nr Teviothead Borders 2
Back into England now and on the way home. This memorial stone at Kirkharle manor was a memorial to the Lorraine family. I had a job photographing this as the sun was getting very low on the horizon.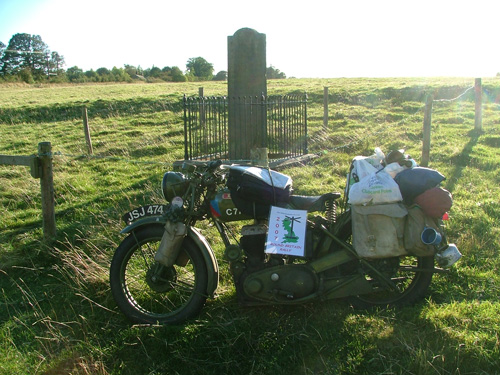 LM 31 Nr Kirkwhelpington Northumberland
I was a little unsure of this LM there was no mention of a narrow gauge carriage on the Internet while doing my research. I quite thought it was a horse and carriage sculpture that I found. The cafe owner told me that this one at the entrance by the road was the one the organisers wanted. I hope so....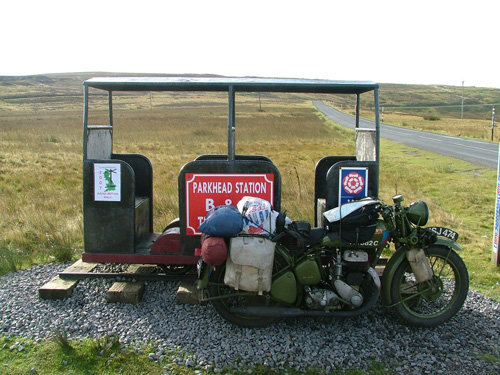 LM 14 Stanhope Durham
So that was Scotland and the far north of England completed. I had successfully completed all that I had set out to do. It felt really satisfying as I had done this on such an old bike. The motorcycle had not let me down. The clutch cable that had broken was really my own fault for adjusting the clutch plates too tightly. Only one more Land mark to collect now.
Wednesday 17th October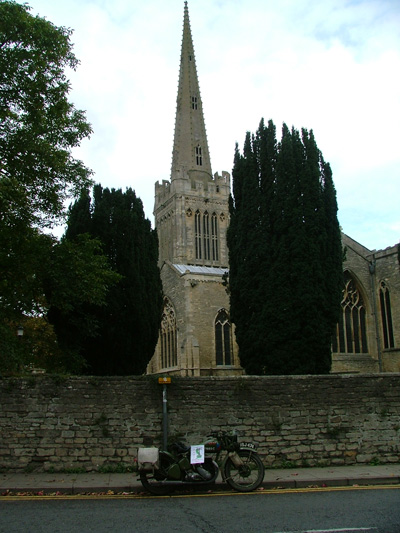 The final LM is very local to me and that is the Oundle one. It is fitting as the very first Land mark I collected back in April was also a local one....
Probably the hardest one to make the effort to go out and get. Obviously I did get out to gather this LM but only in the last few days before sending off my compact disc full of completed Land marks for marking.
All that's left now is to wait for the results of my efforts, I do know that I have an all rounder but it remains to see if they are correct or not.
Will I be doing the RBR next year?
Possibly!
LM 30 Oundle in Northamptonshire
***