My 2007 Round Britain Rally Diary - Page Two
Well we now turn over to a new page after recording twenty five Land Marks previously. I am really enjoying this challenge... The research before setting off, the riding, and the writing up of the events afterwards. I am determined to carry on and gather all the remaining ones there is left to do. I did say that after last years all rounder on the BSA A10 I would get an all rounder on the BSA M21 as well, and it is indeed beginning to look that way. But there are vast distances ahead and that means a trip in September or October, up to Scotland once again. Then there is Devon and Cornwall and the whole of Wales! Well... one step at a time and we'll get there.
Monday 13th August
At last! we, (Albert and I ) have sorted the South West, and all along the south of England. We set out for the BSA owners Club Wiltshire Branch camping weekend 27th July. That week and preceding weeks had seen heavy rain across much of the country, but we were determined to carry on and see these LMs collected, including a couple of BSA weekends too.
Early that Friday 27th July saw us both packed up and ready for the many miles ahead. With the Wiltshire camp done we then set off Sunday 29th July morning with a good companion friend Kent Shaun and his wife Janette and their trusty sidecar tugging BSA 1950 M33. Our first LM was to collect the Wiltshire one as we were obviously in this county. The LM was only 10 miles north and would be collected in little time, easily found after meandering around some really nice lanes and villages. The Kellaways causeway was the landmark and interesting information once again can be read on the following pages.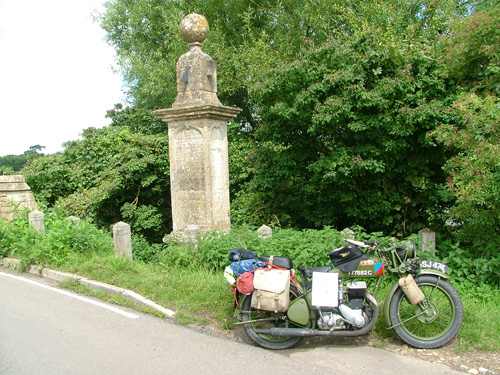 LM 45 East Tytherton in Wiltshire
With our first LM collected we were well on our way into riding on to find the next one, this meant crossing the county border into North East Somerset to find the Tithe Barn which was restored and turned into a village hall and was to be found in the quaint village of Mells. It was also an opportunity to sample a fine local brew in a fine, but rather posh local village pub!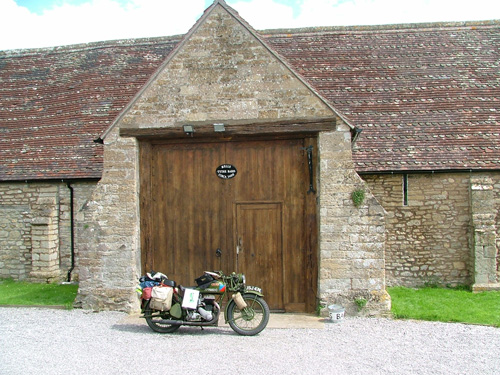 LM 3 Mells in Somerset
A good trek after this to the other side of the county followed the pub visit, and this was to find the easy LM, the start/finish of the South West Coastal Path in Minehead.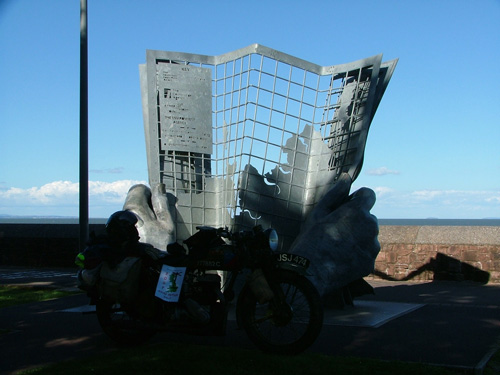 LM 37 Minehead in Somerset
The time now, next morning, after a good camping night in Horner, just by Porlock hill, for getting a little lost as we took a direct route on unclassified roads, they turned out to be some of the best roads with such little or no traffic. Hatherleigh Moor marker stone in Devon was what we were now looking for. Not too difficult but a few doubts by other RBR participants that we met. There appears to be another stone needle shape monument nearby. Anyway...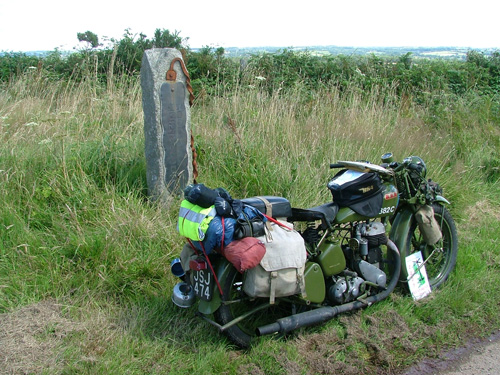 LM 12 Hatherleigh in Devon
Cornwall was our next destination, and on we went covering many miles taking a good couple of hours to find... Perranzabuloe to find the Giant Cliff top Sun dial showing the Cornish time.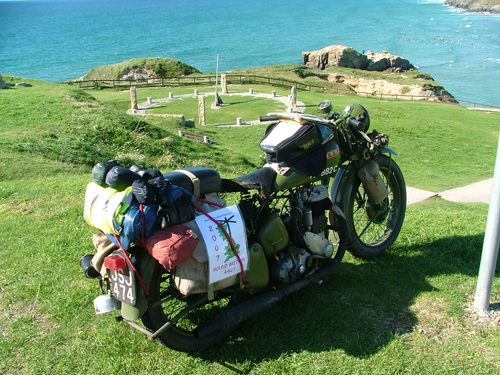 LM 7 Perranzabulo in Cornwall
The second LM for Cornwall was even further down south near to Penzance and this was the Gulval Chyauster Iron age village. We did not stay to go and visit this old village as our friends wished to go on to Muzzle or Mousehole or however it is pronounced! A grand opportunity for a Cornish Pasty and a pint of Tinners ale followed by an Ice cream. It doesn't get better than this I can tell you!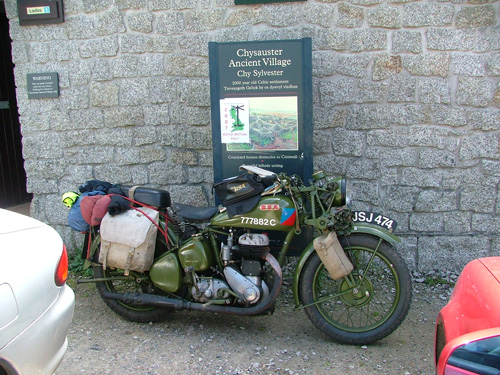 LM 8 Gulval in Cornwall
Before our journey back up north, we just had to visit Lands End for Photos of our bikes there. Soon after the long journey up and into Dorset where we left our friends Shaun and Janette, Albert and I carried on to Sherborne to find the Digby memorial.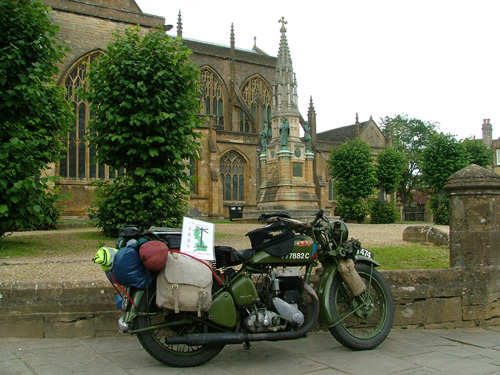 LM 13 Sherborne in Dorset
The Portuguese fire place was our next object to find and this lay in the New Forest in Hampshire.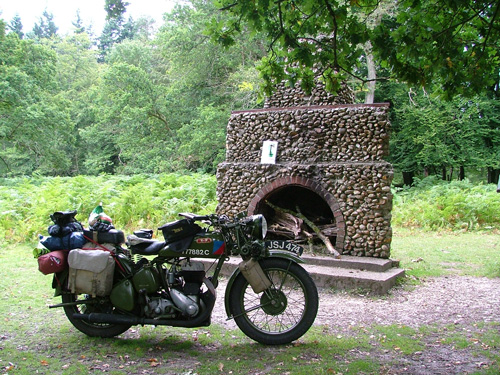 LM 18 Lyndhurst in Hampshire
We then had a short weekend break by visiting the BSA owners club Hampshire branch camping weekend. Which was nearly half way to our next LM in Surrey. We then set off Sunday 5th August late morning to find Holmby St Mary's village pump. Not at all difficult but an incredibly hot day which was unbearable in motorcycle riding gear.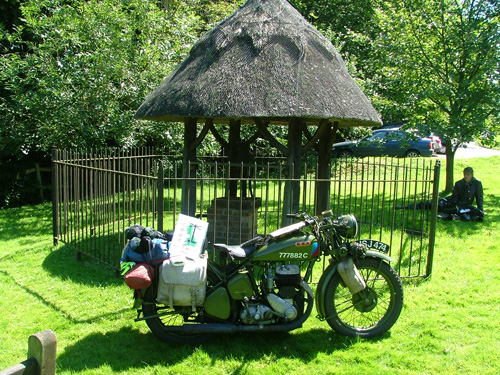 LM 40 Holmby St Mary in Surrey
By now the Sun was really hot and was quite uncomfortable. We carried on to find Handcross in West Sussex where the rather interesting vintage Theo & Samca Petrol Pump stood. We met another RBR rallier here and would meet up with him again in the coming weeks at Penmon Anglesey. Nice chap to talk to.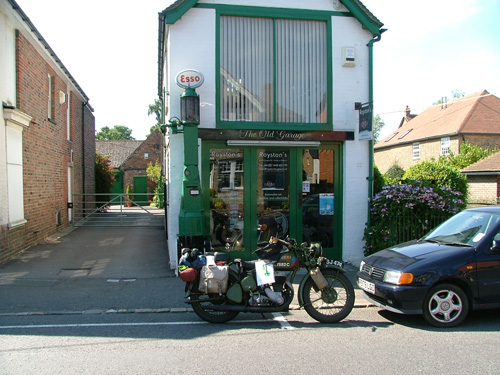 LM 42 Handcross in West Sussex
Our last LM for the day after visiting Brighton for a sea front Ice cream was at Eastbourne. We easily found the Wish tower LM and then retired by putting our tent up on Beachy Head for the night.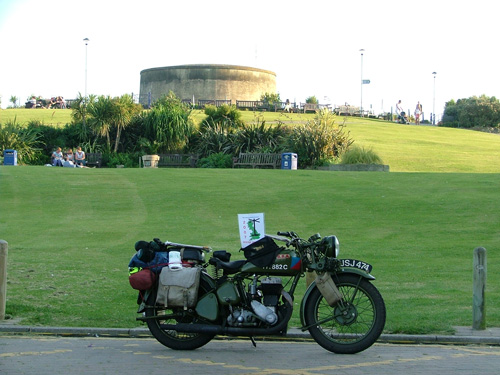 LM 41 Eastbourne in East Sussex
The following morning Monday 6th August we headed up to Cooling in Kent to find the Charles Dickens Pips Coffins or Children's stone graves. This proved rather difficult as I had not researched this LM well. I relied on locals to tell me about this after seeming rather gormless. Apparently these coffins were mentioned in the famous book Great Expectations.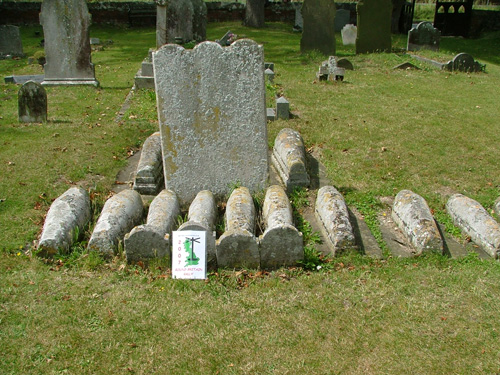 LM 21 Cooling in Kent
We had now collected all the LMs for the south and South West, so it was now time to head home. On arriving home we had covered some 1,360 miles. A brilliant time was had and we both thoroughly enjoyed the time away. Time now to give the bike a full service and some fresh oil.
Sunday 26th August
It is now time for Emma to board the M21 and take ride with me to gather the west country and Welsh Landmarks. We were packed with our usual stuff and set off the Saturday morning 5.30am just as dawn was breaking. Fantastic time of the morning to be out on the motorcycle. We had to get the boring route out of the way first and this took in some of the M6 motorway riding, although it was not too bad for an old bike amongst fast moving modern day traffic. Our first LM was that at Lickey just to the south west of Birmingham. The research was a tad tricky for Lickey, there was another monument very close by that could have confused us.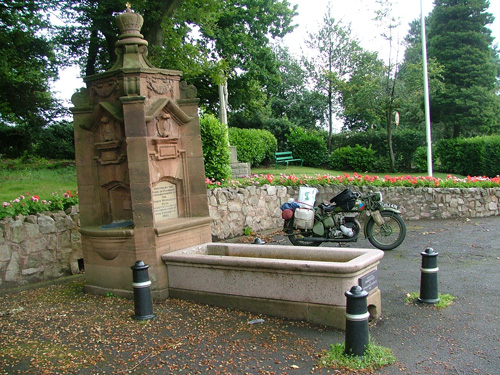 LM 27 Lickey in the west Midlands
Moving on then to Lower Dinchope a tiny village consisting of two houses we were then searching for the Flounders Folly. Easy to spot when you see it but among trees and the like, not forgetting the low cloud with appalling weather we were having that day we eventually saw it although it cannot be seen in the photo below. We got the bike pass this gate and rode up to the start of the hill. As it was raining quite heavily we soon found that it was not a good idea to run and ride up the sticky slippery clay track. Of course! we came off didn't we.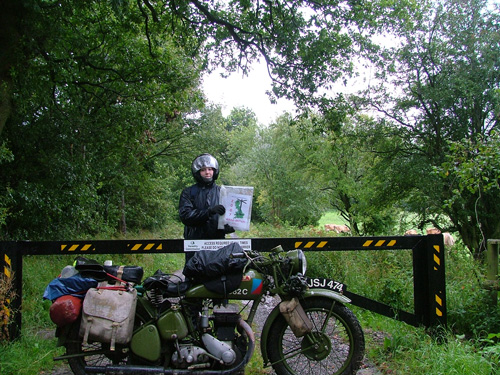 LM Lower Dinchope in Shropshire
Another photo is shown below to prove that we got to the LM.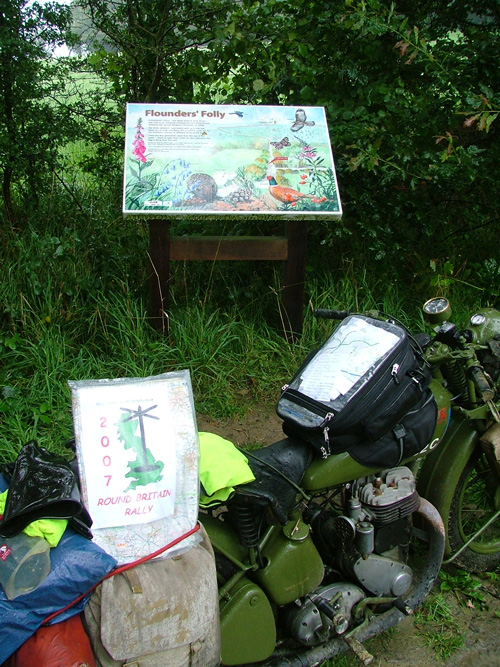 LM Lower Dinchope in Shropshire
The village of Eardisland is supposed to be one of the most beautiful in the county and it was quite rightly so. This is the Dovecot situated in the center of the village with a quaint stream running by.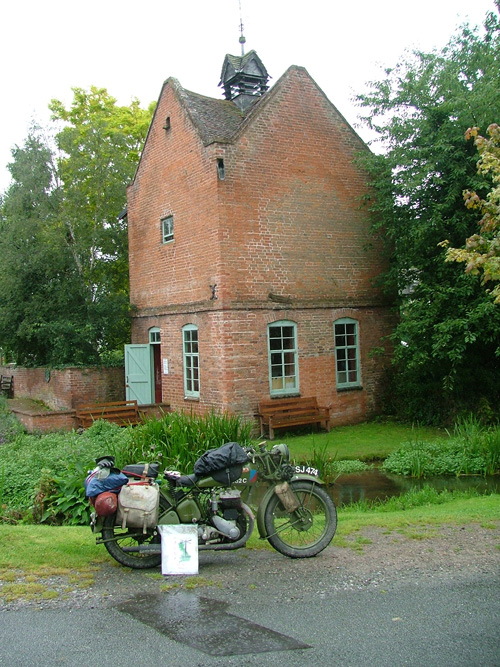 LM 19 Eardisland near Hereford
We were now into Wales and to find an old first world war German field gun on a hill. Again with the weather so bad we did not fancy trudging across long wet grass to capture the gun on film. So the gun sign had to do.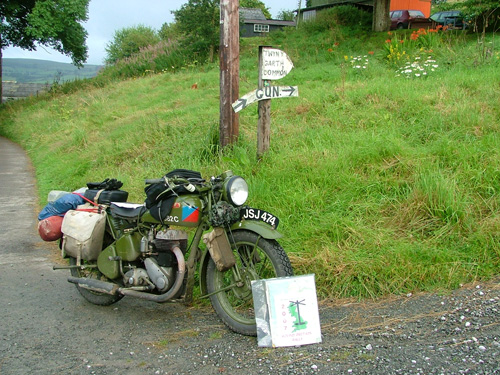 LM 86 Erwood in Powys Wales
This next LM caused some frustration for some of the LM hunters as it is easily missed and not quite in the village of Onen. With the inscription on the fountain 'pure life pure water' we were in no doubt that we had the correct LM here.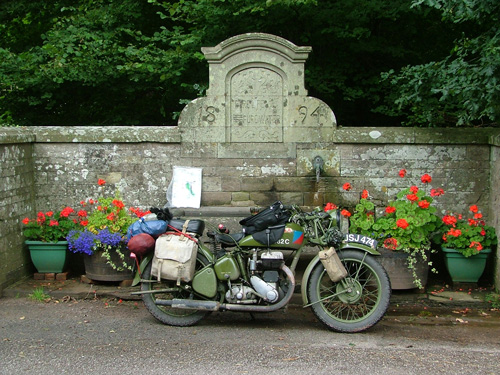 LM 83 Onen Nr Rockfield in Monmouthshire Wales
A good ride now to Blaenavon in south Wales. Again easy to have got the wrong LM because of other attractions nearby. Here we met another RBR rallier. Met him at the Nottingham LM. It was good to have a chat and exchange of notes.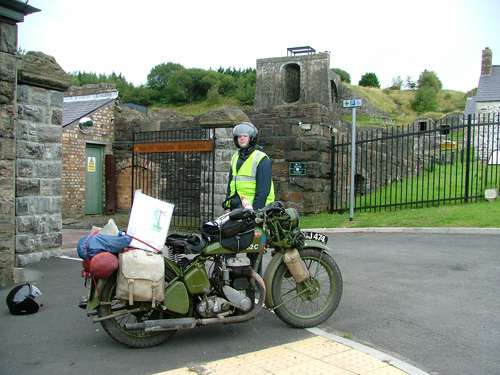 LM 88 Blaenavon near Torfaen Wales
Off now to Swansea... I was not looking forward to going there because of info that bad traffic diversions were in operation. Also that the LM was difficult to see. I was fairly confident that I would find this as it was opposite the cricket/rugby stadium. It does pay to do thorough research before hand. This was a memorial to Swansea Jack. A dog... and seeing the amount of dog crap around it was a real canine pilgrims dumping ground! Yuck lets get outta Swansea!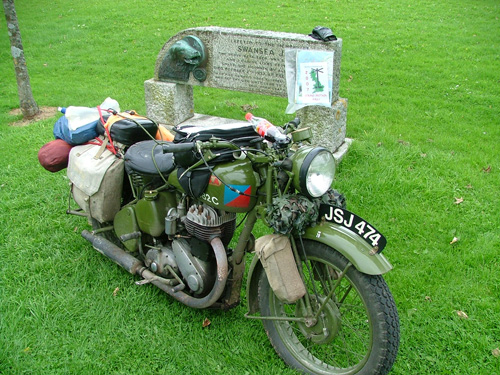 LM 87 Swansea Wales
Now we had a lot of miles to cover before we hit the LM at Llandielo and came over some very high ground with fantastic views. We were now looking for somewhere to pitch tent and the high ground was a bit to gusty for the trusty tent. Not far from this LM the Carreg Cennen Castle we found the ideal spot under some trees which proved very wet during the early morning monsoon. We pressed on very damp and came to the Castle. No time to pay and to climb the hill we set off for our next...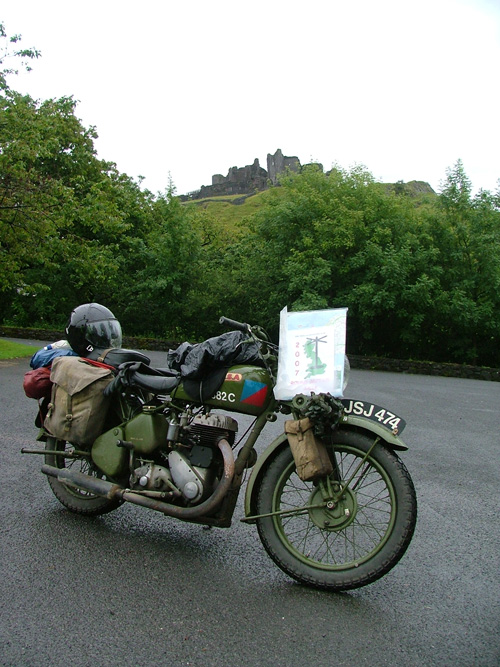 LM 78 Llandielo in Carmarthenshire Wales
By now the weather was greatly improving and soon we were complaining about it being too hot. The Dewi Emrys Memorial was on the cards. I forget now who he was... his memorial stone was way out in the middle of nowhere. Maybe he wasn't very popular.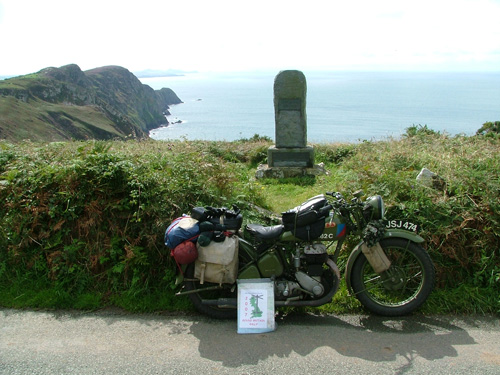 LM 84 Trefasser in Pembrokeshire Wales
Strange LM this and amazing what some people take on as a project. This is supposed to be a sea snail bridge but it don't go over anything other than the snail?? weird, found it okay and had a good ride round on a public beach. Nearly came off again riding around on dry sand dunes!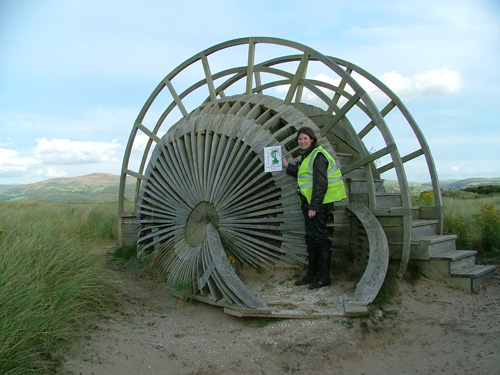 LM 79 Ynyslas in Ceredigion Wales
Another easy LM was at the Mid Wales Welshpool & Llanfair railway. We would liked to have gone on it for a ride but the weather was being kind to us and we had alot more to do.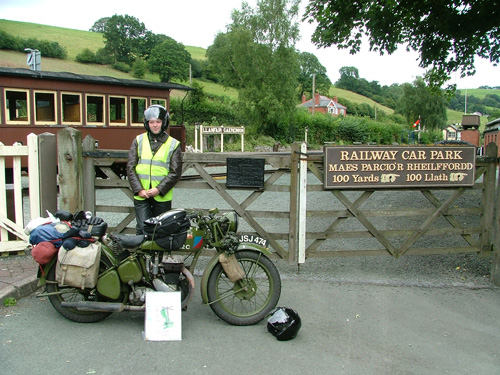 LM 85 Llanfair Caereinion in Powys Wales
A good long hop up to near the English border to find this bridge at Bangor Is Y Coed, how do you pronounce some of these places? We discovered at this point that we had so enthusiastically ridden up to this LM forgetting to turn off to capture on film the following one. So a 25 mile ride back to find it was needed and then another 25 mile ride back to get on track again! Stupid mistakes...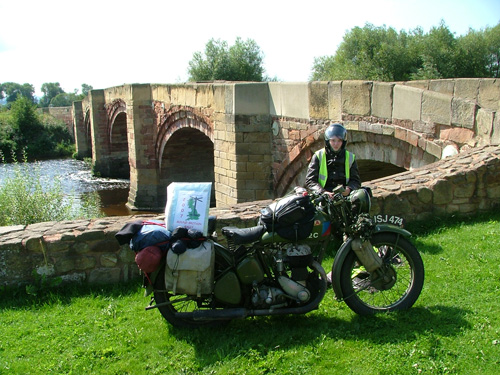 LM 89 Bangor Is Y Coed Wrexham in Wales
And here we are after riding back. And we find ourselves back in England. This really stunning timber frame building was impressive and well worth the while in back tracking.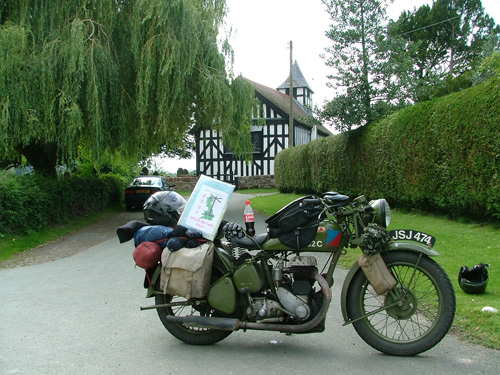 LM 36 Melverley in Shropshire
On then and back into Wales and we find ourselves in Llangollen. We had to search a bit for this 'Harp' LM amazing that whoever we asked had never seen it before. I really sometimes think people walk around with their eyes shut!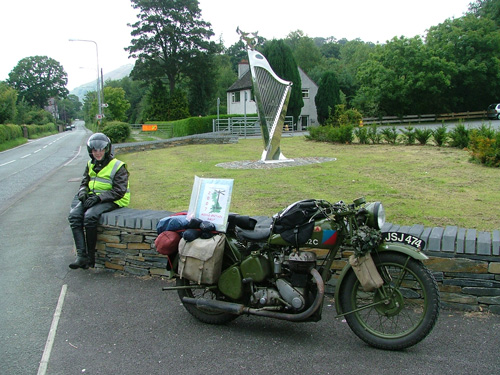 LM 80 Llangollen in Denbighshire Wales
The next morning a good ride pass Bala reservoir where we had camped, all the way up to Portmadoc and pass Pwhelli to Nefyn on the coast of North Wales. This is a well house unfortunately all sealed up.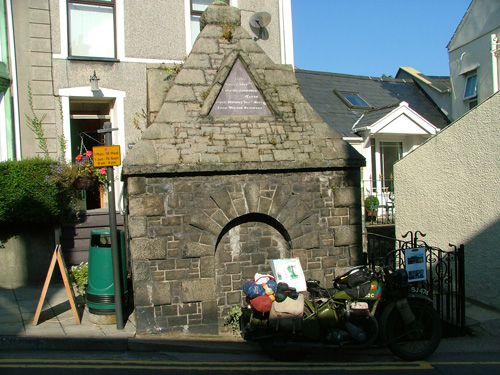 LM 82 Nefyn in Gwynedd Wales
On then up the coast road to pass over the Menai Straights onto Anglesey to reach Penmon. Here we could not get the bike to the well so parked up the bike next to the Well sign. And most annoyingly we had to pay parking just to take a photo! grrrr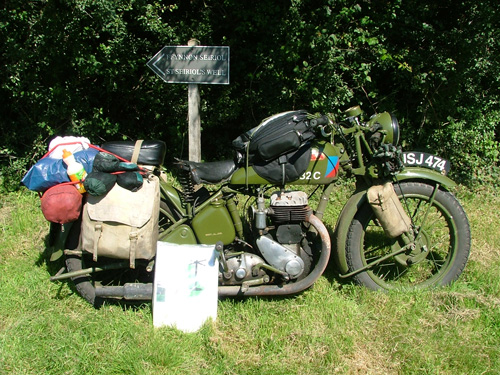 LM 77 Penmon Anglesey Wales
A very uninteresting LM here at a church, just to find two old stones!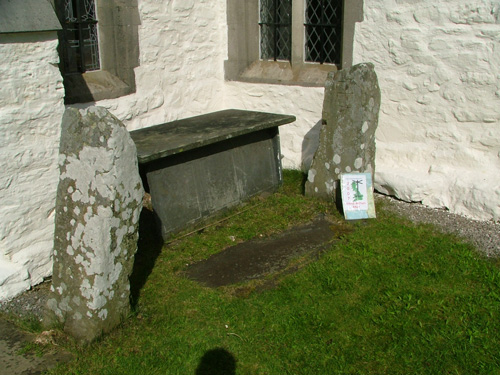 LM 76 Llangemyw Aberconwy & Colwyn Wales
Another LM that we could not really get close to as it was on private land and we were parked in the farms gateway and this was the Alleluia monument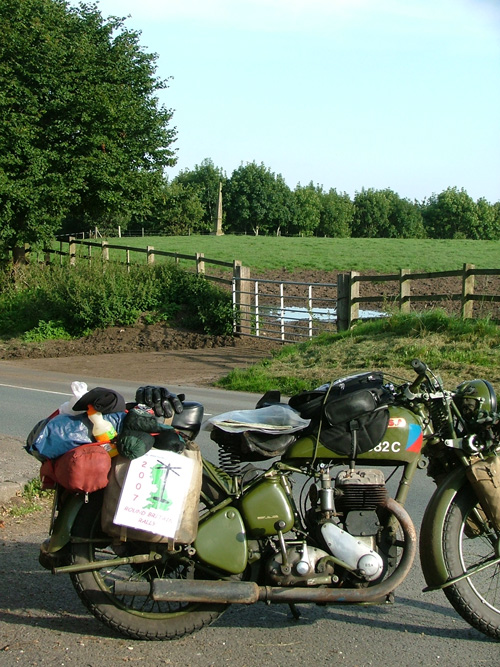 LM 81 Gwemaffield Flintshire in Wales
Another sculpture and a very interesting one too. just by the canal a huge carved wooden horse near Nantwich. What an interesting picture to see two grand old work horses side by side.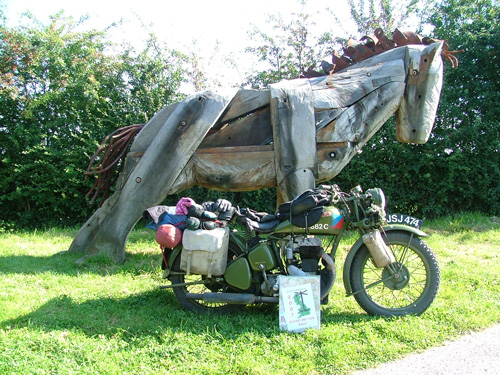 LM 6 Nantwich in Cheshire
A long trip now up the motorway through Wirrel and under the Mersey tunnel to Crosby. Here we found dozens of tall Iron men on the sands. Called Another Place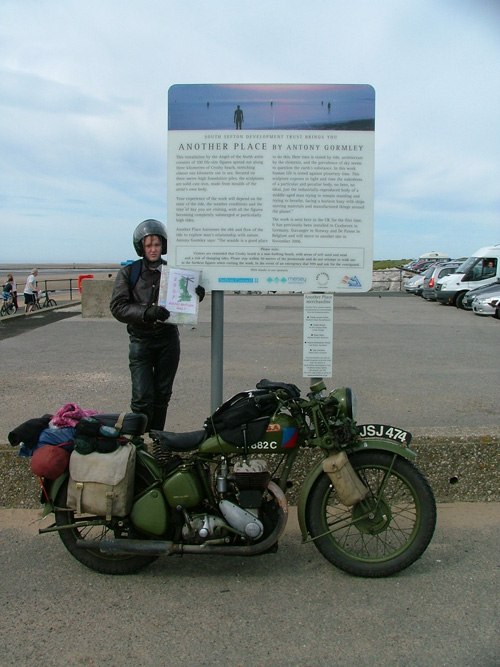 LM 26 Crosby on Merseyside
After the busy place at Crosby Liverpool we then had to go up to the north of Manchester near Kearsley to find the Prestolee packhorse bridge. A little tricky to find but made easier by good pre research. We found our way there and was able to take the bike right down to the bridge itself.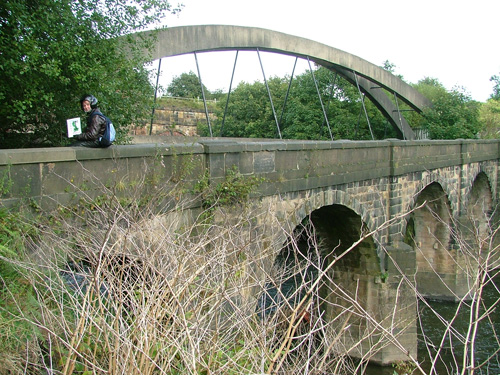 LM 17 Kearsley Greater Manchester
We then got out of the hussle & bustle of Kearsley and head off up the motorway to Morcambe bay to find a campsite for the night and the next LM there. We had some really nice fish n' chips and found a spot to pitch tent for the night next to the beach. The following day we found the LM, a tribute to some swimmer.
LM 22 Morecambe in Lancashire
We then headed up into the Lake District to find the correct Duddon and its Iron Furnace. Not too difficult after doing a further research in the Kearsley public library. It was a fascinating place to see.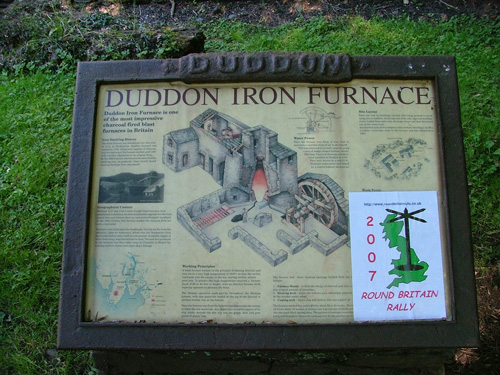 LM 9 Duddon Bridge in Cumbria 1
This time we had to find two village pumps in Murton just north of Appleby off the A66 main road from Scotch Corner to Penrith. Although it was still in Murton parish we were actually in the next village of Hinton! Hope it is the correct LM.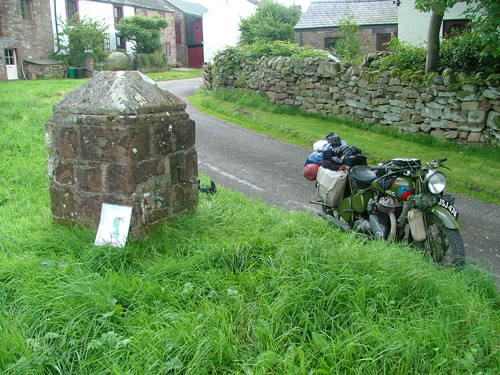 LM 10 Murton in Cumbria 2
The second pump down the hill. Actually the system works by a large header storage tank further up the hill and water is piped down to each of these water stumps that have taps in. Quite an impressive system.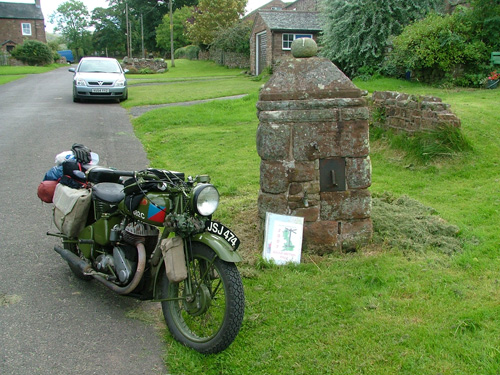 LM 10 Murton in Cumbria
We come to Haworth in West Yorkshire to look for another pack horse bridge. Emma had gone to the Tourist Information office and got helpful info there with a route to walk across some land and down to the bridge. It was a heck of a walk down some steep hill but on finding the bridge left us with no doubt to it at all. Impressive bridge too.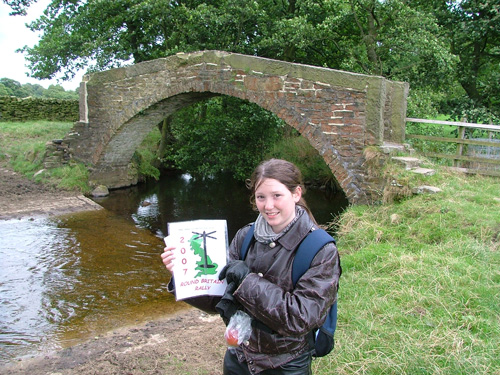 LM 55 Haworth in West Yorkshire
We finish our Welsh and western English RBR tour with these final 3 sad and touching memorials. The three memorials that we had to find were in memory to the Huskar Pit disaster.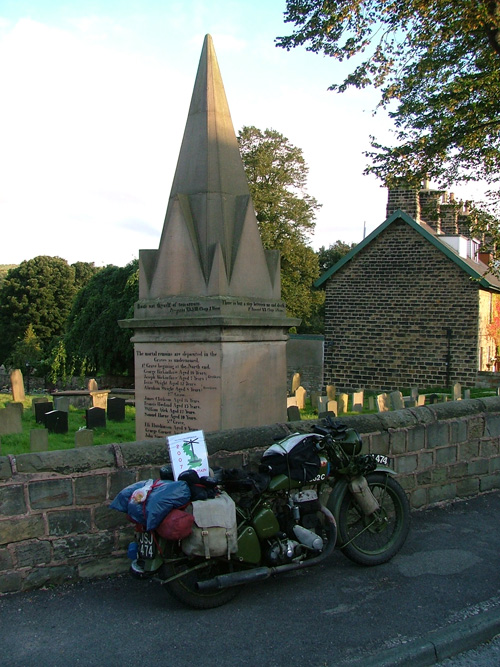 LM 54 Silkstone area in South Yorkshire 1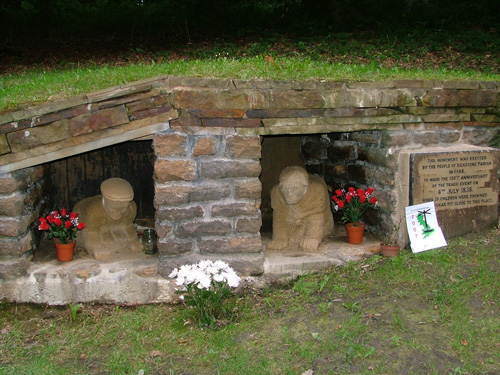 LM 54 Silkstone area in South Yorkshire 2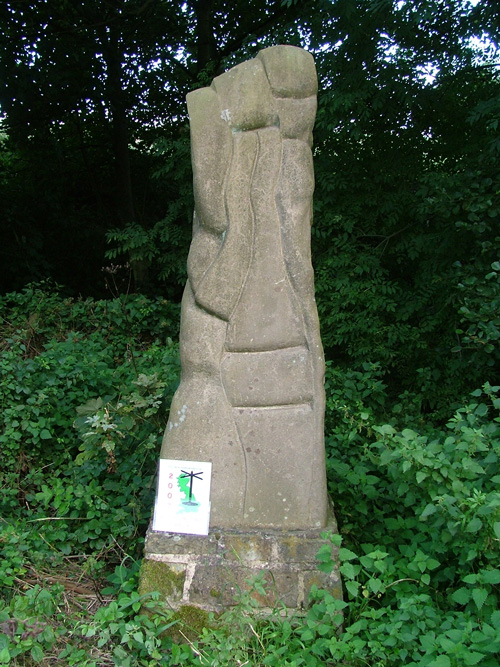 LM 54 Silkstone area in South Yorkshire 3
With the South, South West and Wales now complete it is time to turn to the final page for the far northern England and Scottish Landmarks.
Continue to Page Three.
***