My 2007 Round Britain Rally Diary
My second year of the Round Britain Rally after a very much enjoyable last year riding the 1961 A10 Golden Flash. I did say that I would only do that one year just to say that 'I did it!' But somehow I seemed to have enjoyed it so much that I now find I'm somehow... hooked! For those of you visiting this web page and not knowing about this rally it would be a good idea to visit the Round Britain Rally web site where I originally found out about this rally and who is responsible for this highly addictive madness!...
The rally starts every year on the 1st April and goes on for six months allowing the participant to gather up to around eighty to ninety Landmarks that are scattered around the country. The idea is to get out and see the countryside and areas never visited before or likely to be revisited again. On receipt of the Landmarks list after paying a set entry fee, one has then got the job of doing his research before setting off on long journeys. The idea is to find the Landmark and place a control card on the bike with the Landmark in the background if possible. This shows that the entrant has actually been to the Landmark and not cheated in any way. Here's an example of one of the landmarks from last year...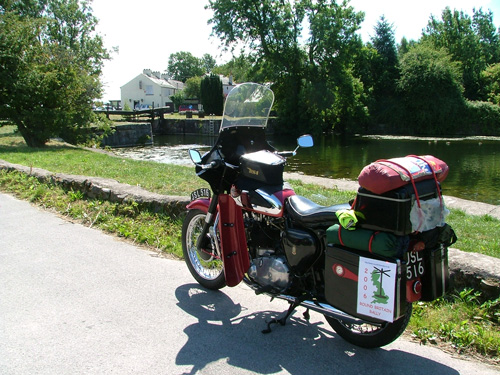 This was taken at Ulverston Locks right on the sea front but in a little known location except by the locals, its a place that I would never had known about. It's a Landmark that greatly impressed me and one of the reasons for redoing the challenge.
*****
Sunday 1st April
Today I set off with Lillian on the Pillion for our first Land mark of this year and that was a fairly local one being in Cambridgeshire, landmark number 5 at Littleport. The aim was to find the William Harley memorial and this was to be our meeting point with some others who also chose to make this landmark a first celebratory meeting point. We raised a toast to Dave the Disorganiser, Graham Flint the RBR website manager and to our selves. After a group photograph we were soon off on our ways to find other landmarks and into an often lonely existence.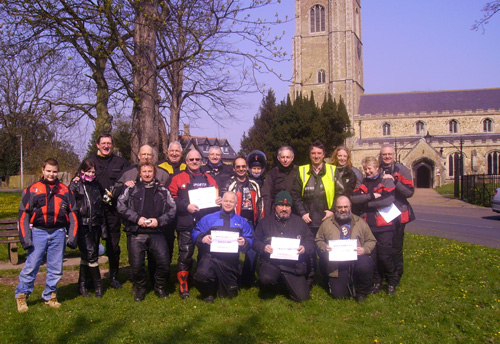 The total mileage for today was 95 miles there and back starting 10am and getting back 3.30pm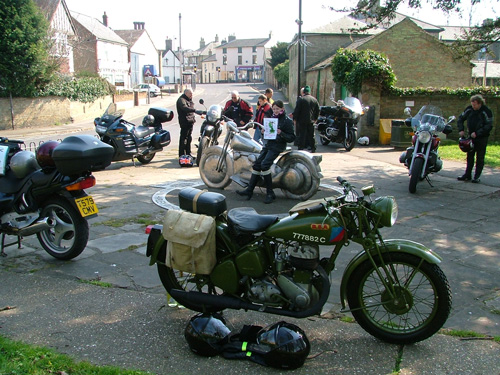 LM 5 Littleport in Cambridgeshire.
Monday 16th April
This weekend Emma, my pillion passenger and navigator really got off to a proper start to the rally. We were up early and set off in fog just before sunrise, it was cold and very damp. We made our way to our first landmark which was at Boarstall in Buckinghamshire which was a fourteenth century Gate house tower. On our arrival around 8.30am the day was warming up nicely. This first landmark felt good as we knew we were back into the rally again after having such fun last year.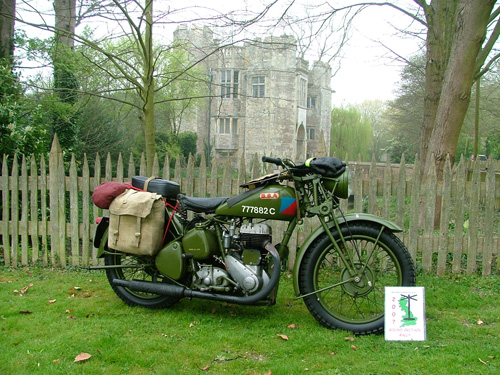 LM 4 Boarstall in Buckinghamshire
We soon moved on after capturing this LM and headed on our way to Berkshire. This part of the trip involved getting lost a few times and eating into valuable time, we hoped to have three landmarks done on the morning. However eventually we came to our second LM for the day and this was the aviation museum the journey there to Woodley, took us through the rather posh area of Henly on Thames it was an opportunity for a refreshing Ice cream and take a bum break to watch the boats by the water side.
Later, on arrival at the Museum we were met by one of the staff who kindly offered us a refreshing cup of tea! this was most welcoming and I fully recommend anyone to stop by and visit this interesting little museum. Clicking on the link will take you to their interesting web site. The Museum of Berkshire Aviation.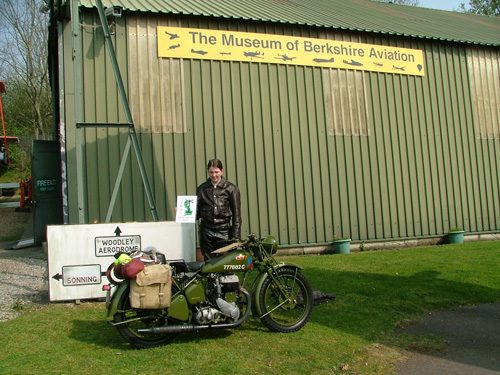 LM2 Woodley in Berkshire.
Moving on again and this time to Stoke Row to find the Maharajahs well, the time now was around 2.30pm and we had lost a lot of time. A nice cross country trip on the BSA M21 and well away from the hustle and bustle of the busy town of Reading. The well is a very eccentric structure and is typical of some unusual object found in an olde worlde Village. You cant help wondering why and how these places sprung up in the Victorian times.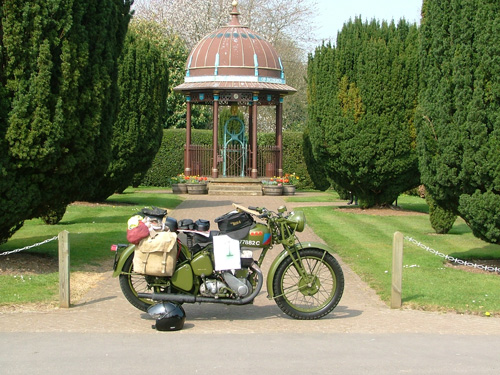 LM 34 Stoke Row in Oxfordshire
Next comes a good long run to Morton in Marsh, another aviation museum. It was now 6pm and the museum had long been closed for the day. Shame really because it would have been nice to browse around at the artifacts on display.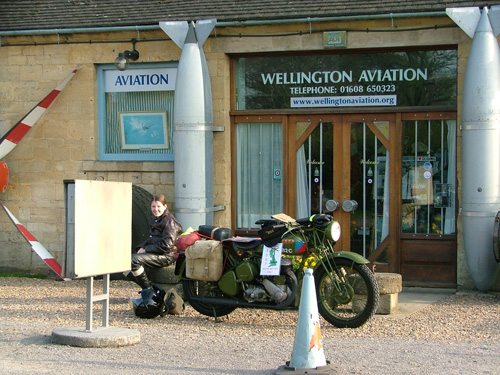 LM 16 Moreton in Marsh Gloucestershire
The next morning after sleeping in a village hall where the BSAOC was to hold the Sunday morning AGM, we set off to find the Droitwich canal restoration plaque. This could have been difficult to find but locals who had seen other ralliers, directed us to the Land mark. The plaque was on the side of a lock and could have been very difficult to find.
LM 49 Gallows Green in Worcestershire
A long trek back to Stratford on Avon, through the town and over the Fosse way to Kineton to find the village pump. No difficulties here as most of the villagers would have seen this sometime or other.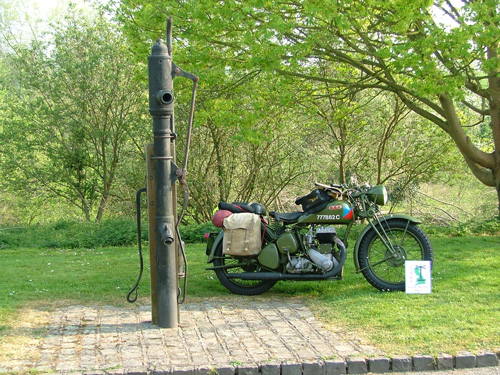 LM 44 Kineton in Warwickshire
We had completed all the Landmarks that we had set out to find and were now on our way home. Foxton in Leicestershire was only just off our route home and was a bit irresistible so we popped in for one more last Landy. It was the museum, we knew where this was because we visited the area only last Xmas time. Foxton Staircase is an impressive structure on the Grand Union Canal system here. No need for any researching here.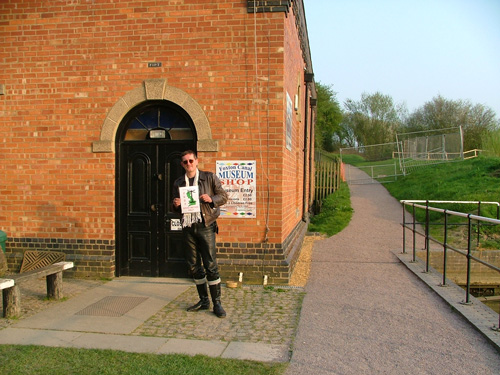 LM 23 Foxton in Leicestershire
By this last LM of the weekend we were completely shattered, having got home just before dark and covered in dead flies. A good late Sunday lunch and bath awaited. In all we must have covered 450 miles. Now to plan for the next batch of Landmarks.
Sunday 6th May
I took a day trip to Horncastle today to see the meeting of Classic bikes on the Lincolnshire Wolds run. I had not entered for the run as I discovered this too late, but what a grand opportunity to get a couple of landmarks. Midday when most of the bikes left for the run, I set off to find Wainfleet, Its easy to know your in Lincolnshire because of the many pubs owned by Bateman's Brewery which is what I had set out to find. It was not too difficult and the Windmill stump was soon found. A beer was also consumed there too. Well I had to didn't I? (Sorry about such a dark picture, must have been the dark ale.)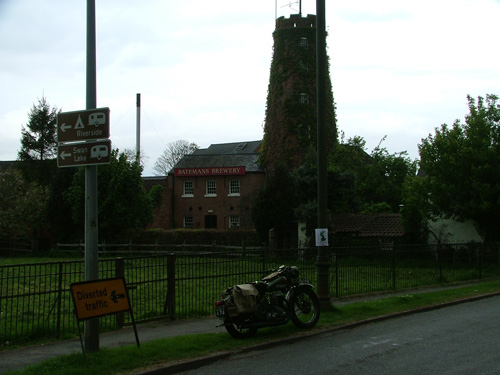 LM 24 Wainfleet in North Lincolnshire
Having consumed the one and only pint of best bitter I set off along the road back to Horncastle to see the bikes coming back in from their Wolds run. After an hour or so I set off home via Donington the second and last landmark for today. Easily found and also a grand opportunity to meet another Round Britain Rallier. This Landmark was a statue memorial dedicated to Mathew Flinders who sailed to Australia in about 1796.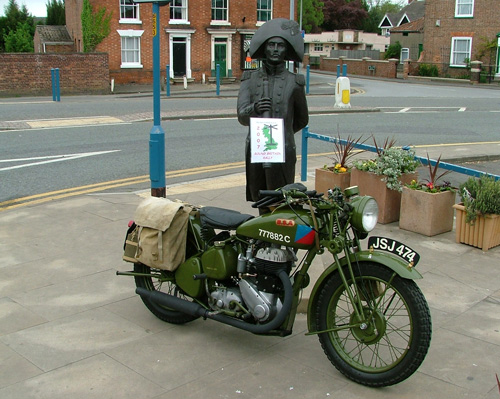 LM 25 Donnington in Lincolnshire
Tuesday 29th May
Time for some more landmarks. This time I was in company of some other classic motorcyclist and touring around the north west. We passed Saxton where Landmark number 53 is situated. This is a memorial cross dedicated to Lord Dacre and is located on an ancient battlefield.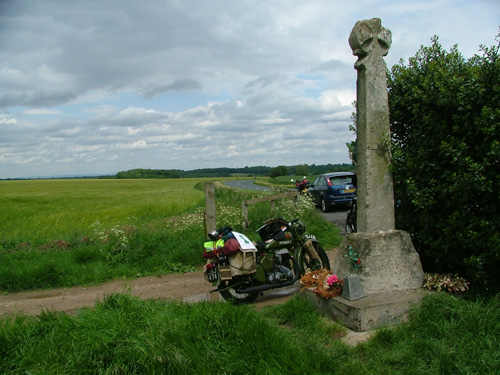 LM 53 Saxton in North Yorkshire
We then moved on to find the next one up at Thoralby which is an old animal pound.
LM 51 Thoralby in North Yorkshire
We then left Yorkshire and moved over to see a friend near Liverpool and this was a good opportunity to gather the three coastal lighthouse landmarks around the area known as The Wirral, to my surprise I found this to be a nice place.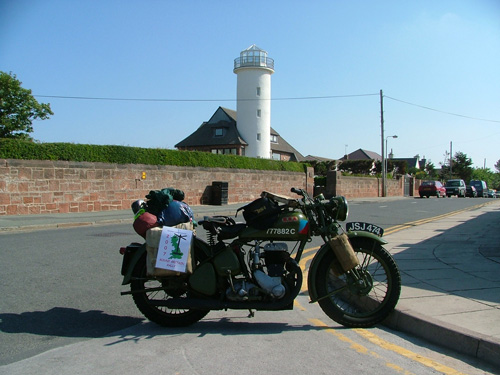 LM 48 Hoylake in the Wirral
The Hoylake landmark is not actually a lighthouse it is in fact a folly with a lighthouse look about it. Notice the conservatory on top, there must be fantastic views across the shoreline.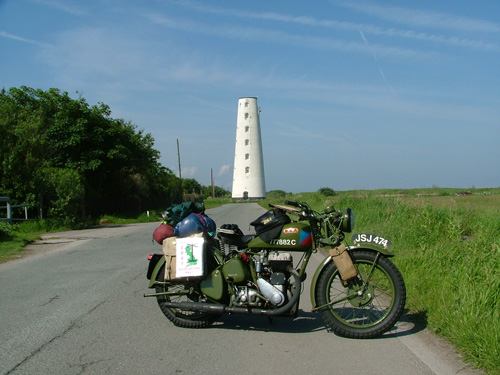 LM 47 Leasowe Common in the Wirral
Easy places to find because of their heights! Here is Leasowe Lighthouse.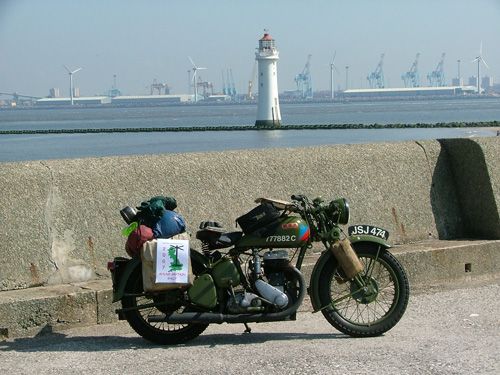 LM 46 New Brighton in the Wirral
This newly restored lighthouse at Perch Rock New Brighton with Liverpool docks in the background has interesting history, it has undergone a recent restoration and looks superb in its location. The Keepers in times passed must have seen a tremendous amount of shipping traffic. Wonder if they ever saw the Titanic set sail.
Friday 22nd June
Well last weekend we attended the Norfolk BSA owners club rally at Walcot just near the Mundesley Landmark. We set off early from home Friday morning my eldest and I, and headed out towards our first LM which was that at Kings Lynn. This was the Greyfriars Tower, quite an interesting ancient building.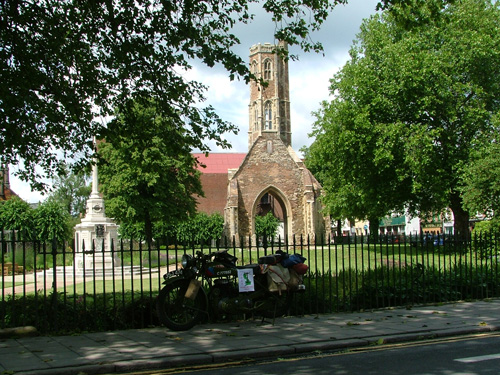 LM 29 Kings Lynn in Norfolk
An easy one to find and also like that of the Coastal mine clearance memorial at Mundesley.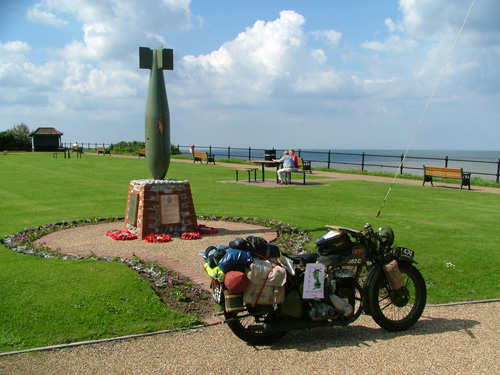 LM 28 Mundesley in Norfolk
After the BSA rally when we had packed up our tent and stuff Vic and I set off towards Southwold in Suffolk and here we had to find 'The Battery' this LM caused a little confusion on the RBR forum, concerning a battery powered lighting display on the pier. Easy to be confused and more so if one does not know that a battery also describes a collection of guns.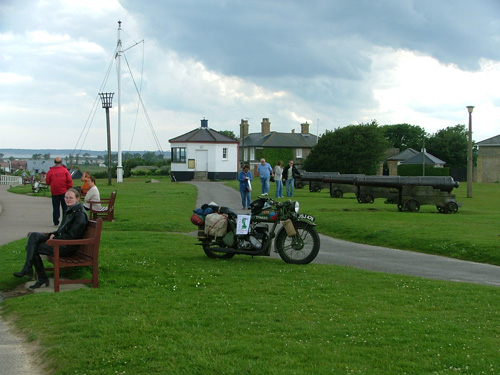 LM 39 Southwold in Suffolk
We headed on further south into Essex to a remote area of Bradwell on Sea a small corner of the country. We found the roads still busy and no different from anywhere else, it was a little disappointing as I expected this area to be almost totally deserted. The LM was a small disused chapel out on the edge of the marshes, we did not walk over to this as the bike and all the stuff aboard would have been vulnerable to theft so our photo here is from a safe distance!
LM 15 Bradwell on Sea Essex
We camped overnight just by the old airfield and were up early in the morning with the sound of much traffic heading towards the Nuclear Power Station. Today we would be going up to mix with the traffic in Hertford to find the Samuel Stone statue just by the Mill Bridge. It was a difficult place to get our photograph as we were right on a bus stop with yellow lines. This was a case of a quick snap and go!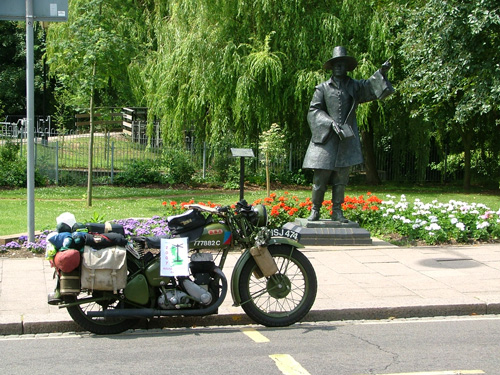 LM 20 Hertford in Hertfordshire
Our final LM for this short tour would be in Bedfordshire and was to be a real treat. We had to find another packhorse bridge, I was a little cautious as last year I collected the wrong bridge in an area where there were three of them. This one suited me though... Nice to cool the tyres of a well ridden BSA!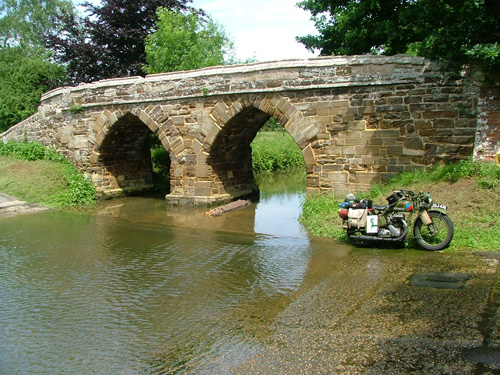 LM 1 Sutton in Bedfordshire
Well it's time to go out and get the bike ready for this coming weekends BSA rally to be held in Derbyshire, a grand opportunity to collect possibly three more LM. This time I change my pillion from Vic my eldest to old Iron Butt Emma!
Saturday 23rd June
Well what a very wet weekend it was! This last weekend just gone Emma and I went to the South Derbyshire BSA camp held at Two Dales just outside of Matlock. We had been asked to join the other RBRallyers up near Hayfield but could not change a long standing decision. On the Saturday after a rest and cuppa from doing the BSA run out I then set off to collect my landmarks, Emma had decided that 65 miles earlier in the afternoon was enough so I set off on my own. I had planned my route and done the research needed.
The first Landmark to find that evening, was the Mytham Bridge Toll Gate at Bamford. This was a nice ride along roads that we had covered earlier on in the afternoon and Bamford was soon reached. I was surprised to find the obvious LM beside the road even though I had not found any photos on the Internet during my search.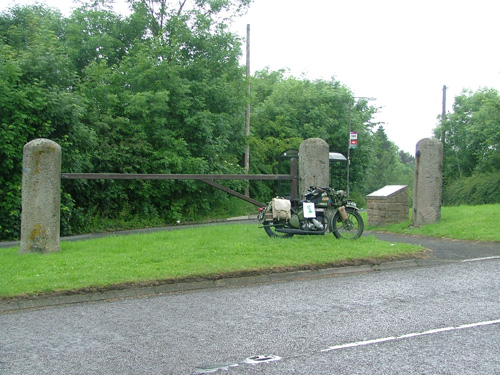 LM 11 Bamford in Derbyshire
I set off after capturing this photo and donning on my rainwear to find the next LM over at Thorncliff in Staffordshire this I thought would be a quick hop over the dales without any problems. There were no serious problems as such only that my petrol was getting very low I had to make sure that I did not take any wrong turnings. I was lucky to have managed to get to the LM which was the Mermaid Inn up out there on the top of the dales...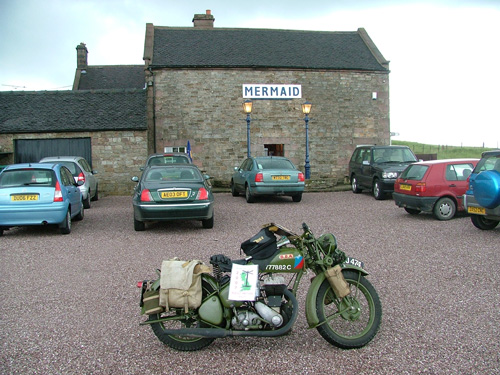 LM 38 Thorncliff in Staffordshire
By now the remaining petrol in the tank was worryingly low and I had to get back across the dales and towards Matlock, the sky's were dark and grey and felt quite eerie with there being absolutely no traffic on the roads at all. I eventually got back to Matlock and found a small petrol station that was still open, it was only a small private station with just the two pumps. After a nice long fill up I got back to camp after having a three hour ride covering some 70 miles. It was grand!
Sunday morning saw us packing up to make the journey home, it was a sunny dry start but before we left the rain was again falling on us. I had decided to take a different route home to collect the Nottinghamshire LM just to the north of Nottingham. This was a small village only next village to last years Papplewick pumping station LM. This village of Linby where we had to go, contained two village crosses whereas most villages only have one cross. They were easy to find and on getting there we met up with some other very wet RBRalliers.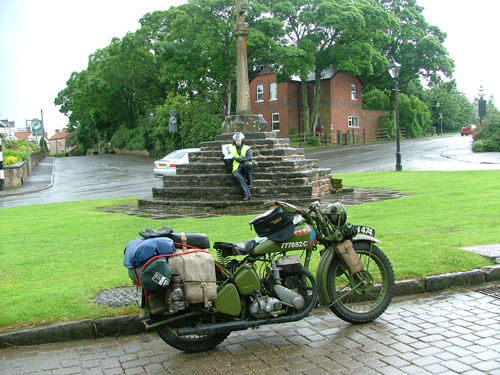 LM 33 Linby in Nottinghamshire 1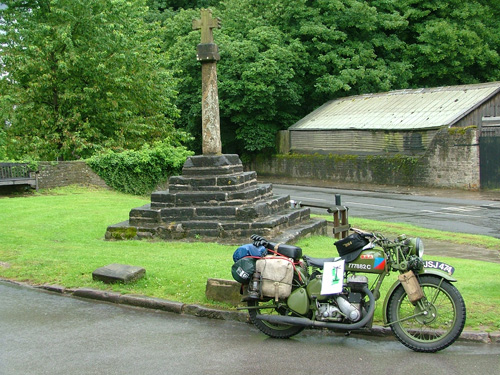 LM 33 Linby in Nottinghamshire 2
At this stage I now find the page is getting long and maybe taking a long time to download the pictures, So we will now Continue Over onto Page Two... (Hope your not getting bored!)
***