A 1949 BSA A7 500cc Mark 2 Long Stroke Duel Carb Star Twin
Page Two
So first a little updating on how the bike is...
I've had the Star Twin just over four months now and it has covered some 655 miles. Mostly the bike had been running fine with very few problems apart from the magneto which on riding to Leicester and back in January it had packed up. I don't know how I managed to get home before darkness. I had been to meet a guy who also has a 1947 A7 and had a twin manifold he was prepared to let me have.
The biggest thing I suppose, was getting the magneto sorted out, and this I sent to Tony Cooper who did a very good job and had the magneto returned to me within the week! Excellent service to Tony, the bike ran fantastic after that. The other problem that cropped up later on was that the needle in the carb had fallen out of it's clip and caused problems, I had been blaming the problem on the fact that I had been adding oil into the petrol to give a little upper cylinder lubrication during the running in period, thinking that the cold weather had made the oil thicker and had accumulated in the bottom of carb causing blockage, again once that problem was found and fixed the bike carried on running a treat.
During this time I had fitted a battery status monitor (see the orange light in photo) and now can see that the bikes dynamo is charging perfectly and without any problems, it also tells me that the old fashioned mechanical regulator is doing its job well too. I also gave all the, what looks to be, original wiring, a tidy up. Shortening the slack and tying up to frames to give a much more tidy and pleasing look. I removed and replaced the rear light to one that would have been fitted back in 1949 but converted it to accept a good brake light to comply with current road regulations. The number plate and numbers were also repainted and unused holes filled over, it now looks much better as I'm sure you'll agree by seeing the photo below.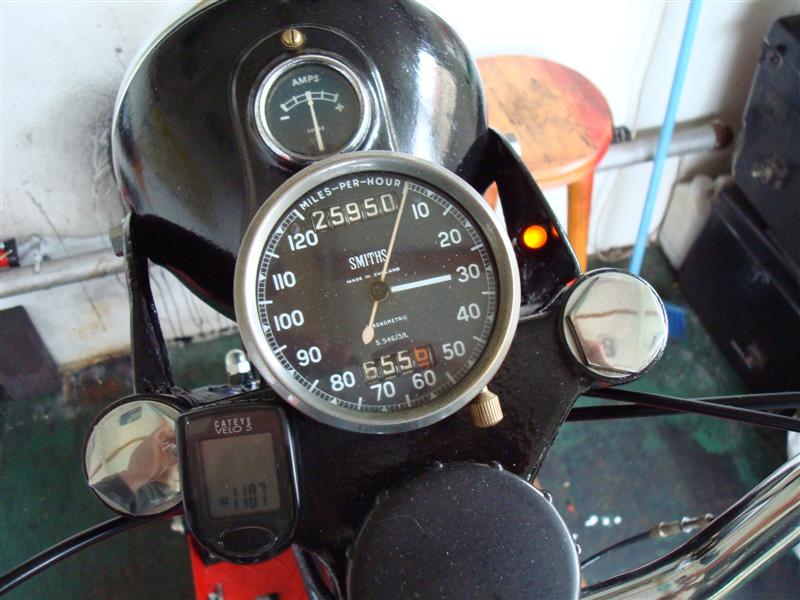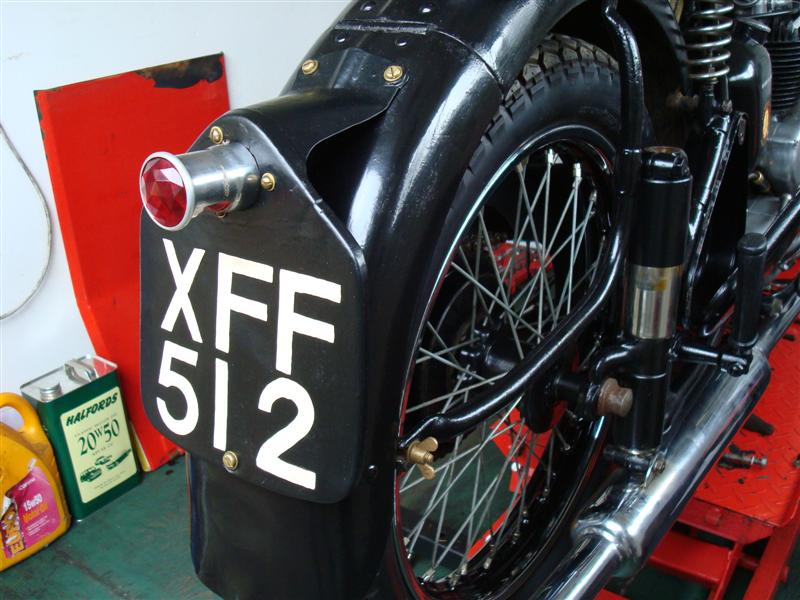 Now the bad news comes... Early February, I came off! and here you'll be able to read all about the 'happening' with photos added. See my I've come off page.
Well I changed the tyres soon after that and got some... nasty to some... but okay now, as the quality has improved much more than the earlier days of using harder rubber... Yes! 'Cheng Shins' and to be fair, they have been excellent in my opinion. They look better and more period too, very much like Dunlops, and when the salt has been sufficiently washed off the roads this spring. I shall be trying them out a little more, abeit bravely.
So... In the last week or so I had got the paint brushes out and gave the inner rims between the spokes some black paint. In a couple of days when the paint has hardened I shall then gold line them and they'll look great! But this job then spurned me onto removing the horrid paint on the petrol tank. So off it came and out with the stripper to reveal what looks like a very sad past. The chrome had got very bad and I can see why the previous owners had painted the tank and exposed the panel on side. This was a common remedy to changing around the decor and to avoid the expense of re-chroming.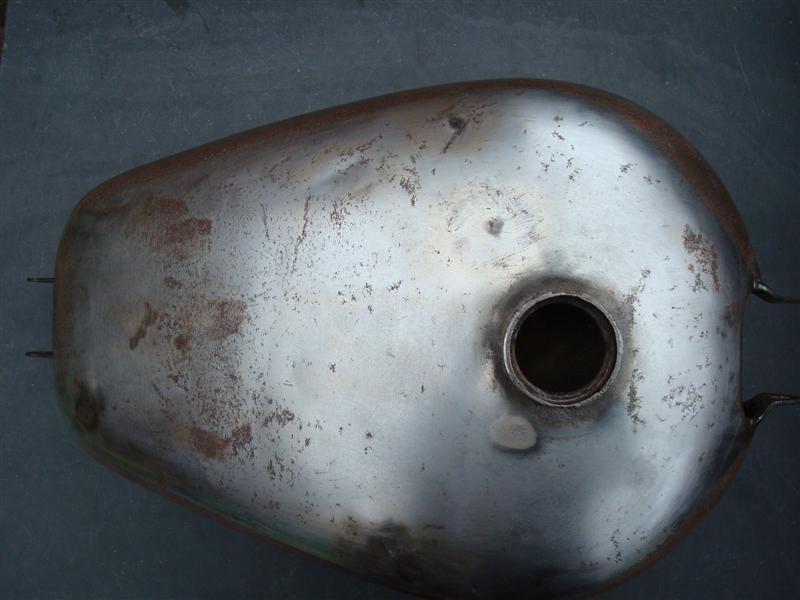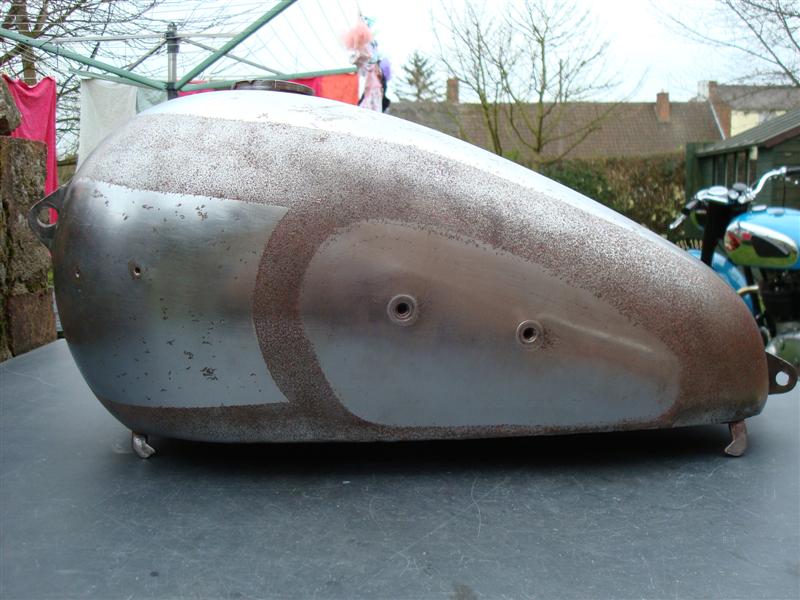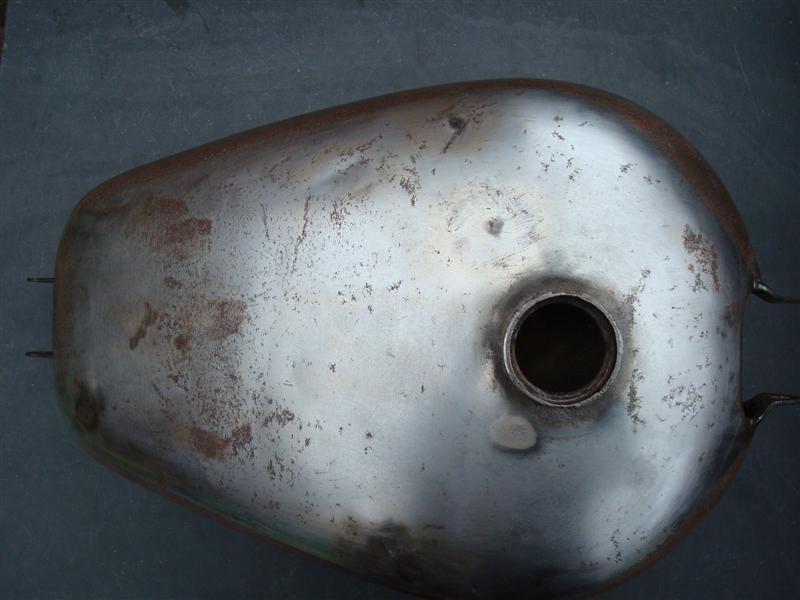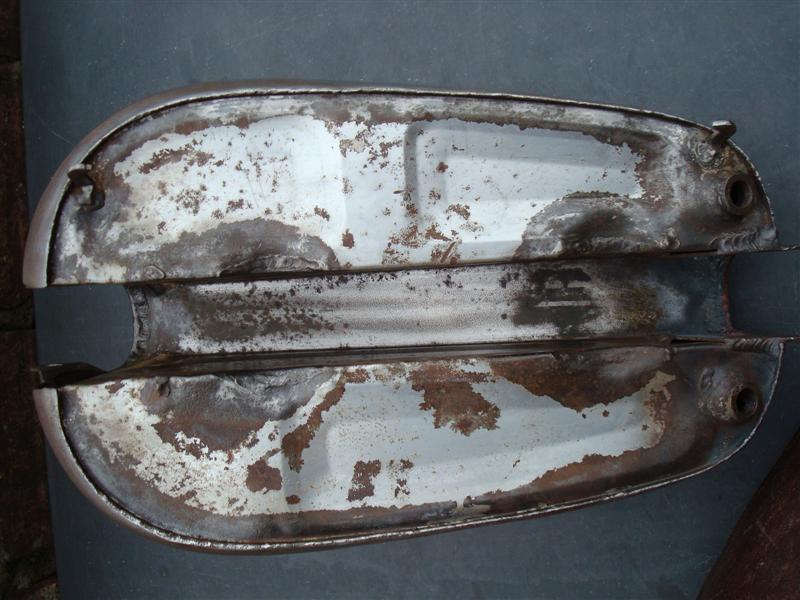 The tank to me looks fairly solid and well constructed, there appears to be one or two small dings but I can live with that. Now I am currently in the process of finding a good and reasonably priced chromer. I have taken details and measurements to enable myself to re paint exactly how it was painted when the bike left the factory. An update on this will be revealed as and when the work is completed.
While the tank has been removed I took this opportunity to fit the twin carburetors. Only this morning I had a 276 Amal sent to me. unfortunately it is a 1 and 1/16th of an inch as opposed to the 15/16th that I need. However as it was kindly donated I'll give it ago until I find a correct size. Cleaning it up and preparing it wont take much effort and will give me some idea of how things will look.
Update: 9th December 2010.
Had the bike just over two years now and still going strong. Not much more was done to the bike since I last updated the page, so now is a good opportunity to update...
The petrol tank was re chromed and painted and as mentioned earlier that the bike had been hand painted... I chose to hand paint the tank to match the rest of the bike. Looks a pretty good job eh?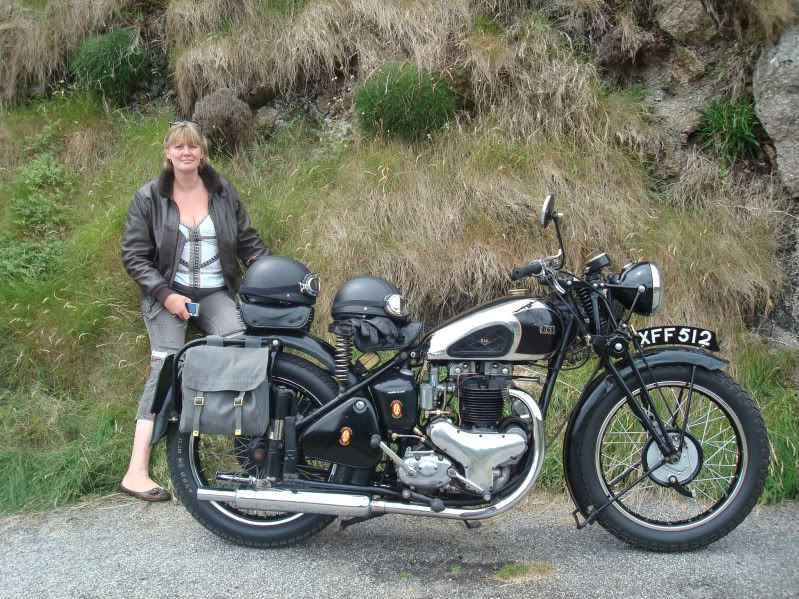 Not long afterwards I began fitting the twin carburetors, this turned out to be quite a job and rather big expense. I chose to keep to the pre Amal 276 carbs and fit some copper pipe work between tank and float chambers. I was lucky to get the twin manifold from a BSA friend. I was not expecting to gain any huge performance with the carbs, but I knew they would be a good talking point. I was pleased how the fitting went as I was expecting much leaking petrol and frustration in balancing them up. In actual fact because I enjoyed so much in working on these, the end results were good indeed.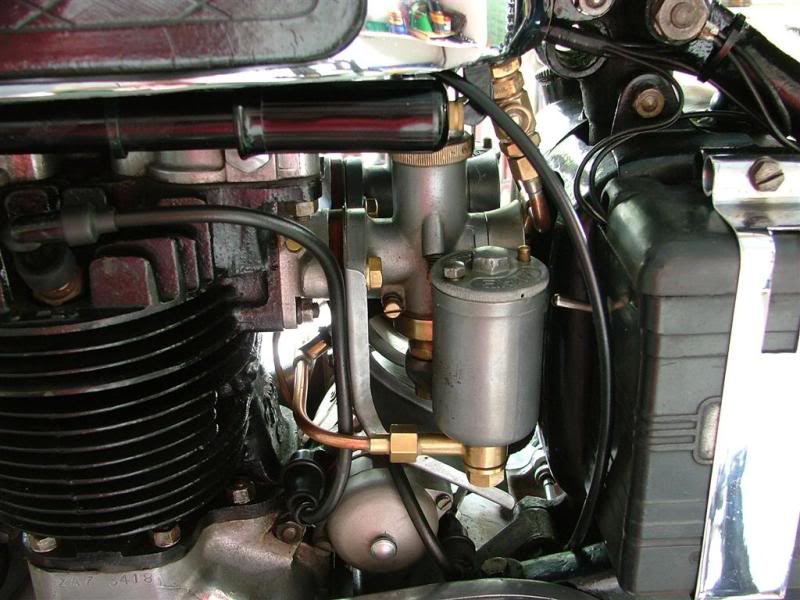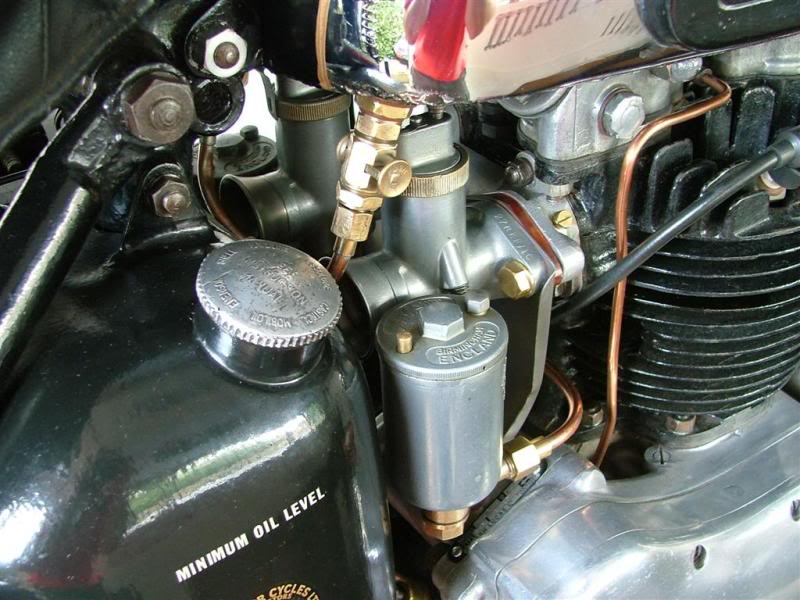 My next big idea was to fit some spare girder forks that I had lying around. These are 1940 WD forks that I got with a basket case bike, still waiting to be built. My main worry was the front end fouling the frame and tank but no problem here as it turns out.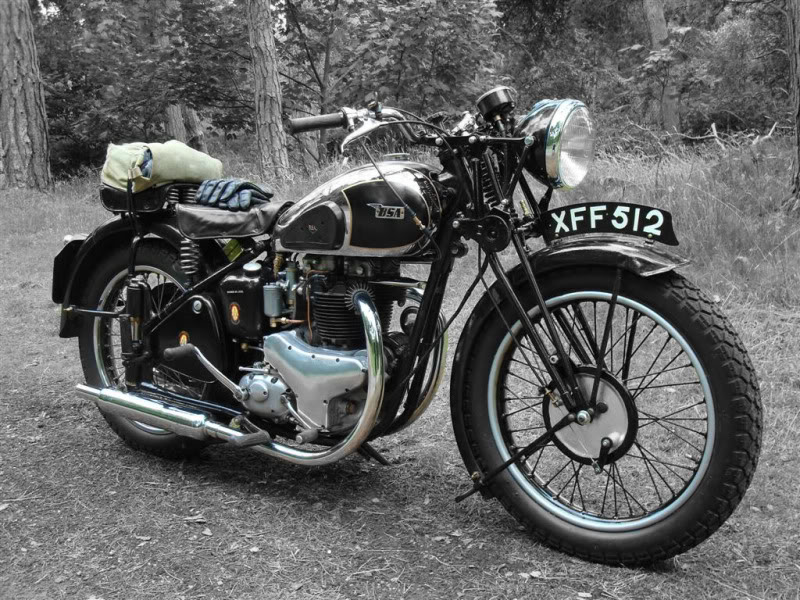 I have since changed the early front wheel hub to a later mark 2 one, the difference is that the brake shoe is wider and makes for better stopping. It is also a much better construction with a sturdy wheel axle. Not much else I can do now, other than to fit some pannier bags and..... a side car!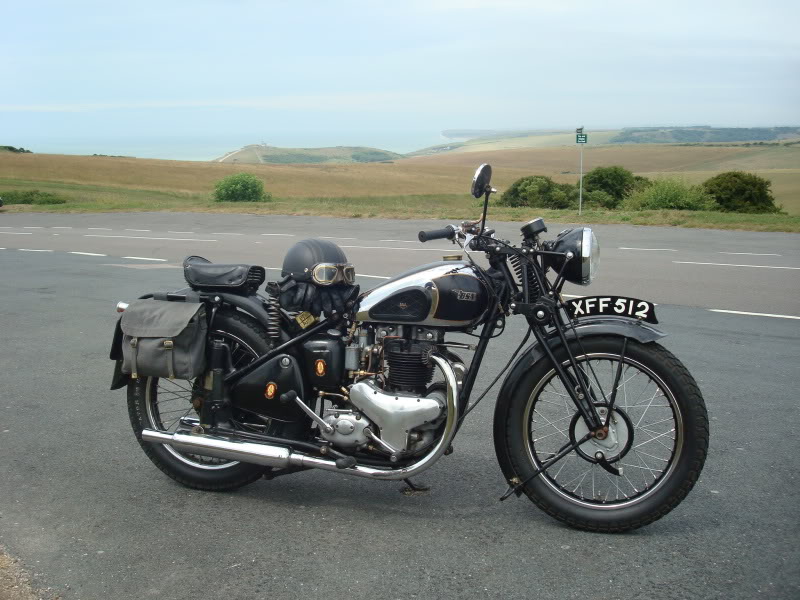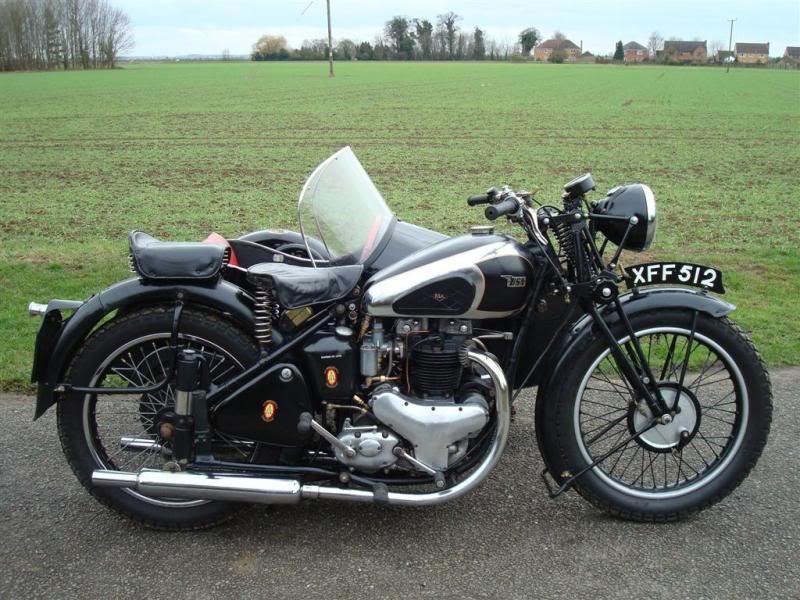 And finally... well we just 'have' to see someone in the side car...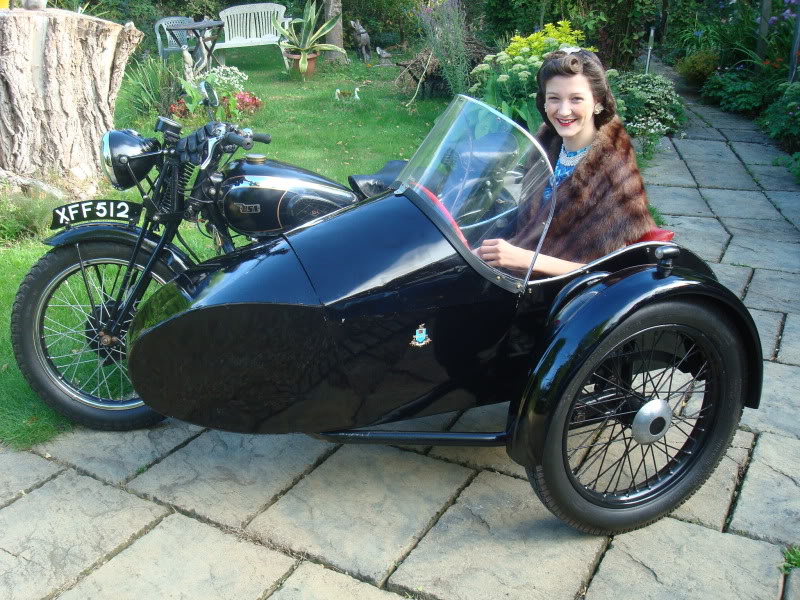 *****